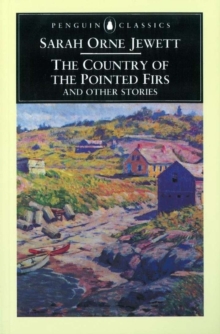 The "Country of the Pointed Firs" and Other Stories
Paperback
Description
The Country of Pointed Firs, Sarah Orne Jewett's masterpiece, established her among the consummate stylists of nineteenth-century American fiction.
Composed in a series of beautiful web-like sketches, the novel is narrated by a young woman writer who leaves the city to work one summer in the Maine seaport of Dunnet Landing, and stays with the herbalist Mrs Almira Todd.
She writes a New England idyll rooted in friendship, particularly female friendship, weaving stories and conversations, imagery of sea, sky and earth, the tang of salt air and aromatic herbs into an organic 'fiction of community' in which themes and form are exquisitely matched.
To quote Willa Cather: 'The 'Pointed Fir' sketches are living things caught in the open, with light and freedom and air spaces about them.
They melt into the land and the life of the land until they are not stories at all, but life itself'.
This edition, introduced by Alison Easton, also includes ten of Sarah Orne Jewett's short stories, among them 'The Queen's Twin', 'The Foreigner' and 'William's Wedding' set in Dunnet Landing.
Information
Format: Paperback
Pages: 304 pages, Ill.
Publisher: Penguin Books Ltd
Publication Date: 26/10/1995
Category: Literary essays
ISBN: 9780140434767
Free Home Delivery
on all orders
Pick up orders
from local bookshops
Reviews
Showing 1 - 2 of 2 reviews.
Review by Marensr
16/06/2015
Sarah Orne Jewett's THE COUNTRY OF POINTED FIRS is a visitor's tale. Set in the fictional Maine coast town of Dunnet Landing where the author/narrator has settled for the summer to write. As a visitor, the narrator inevitably recounts only the pieces of history she comes in contact with through her landlady and the people she meets in the community. The stories are portraits, bits and pieces, of lives that exist outside the narrator's brief visit. As a result, the reader feels like a companion on this holiday. The novella moves at the pace of a quiet seacoast village, and is refreshing to read for that very reason. Like a vacation, outside cares fade while focusing on the lives, habits and landscape of this place. The writing is finely wrought. A real affection for a place and people one knows briefly shines through the work and makes one wish for a time and place when travel, life and writing unfolded at a the speed of a long walk.Some editions incorporate other stories written about Dunnet Landing into the body of the novella. This can lead to a change in the narrator's voice that is incongruous with the rest of the work. Look for a version that preserves the order of one of the early publications with other short works in a separate section.
Review by yarb
16/06/2015
If you like insipid family yarns and the nattering of old women, if you're charmed by homespun wisdom and wowed by ordinary rural New England folk saying (rarely doing) ordinary rural New England things, and if you like literature to be a gentle balm, a comforter, a restorative herbal tea naturally sweetened with honey, served lukewarm so that you barely notice it while imbibing, then you will probably like this book. I loathed it.