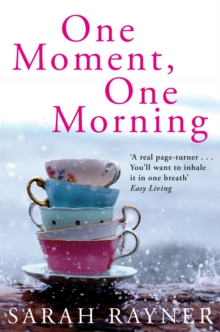 One Moment, One Morning
Paperback
Description
The Brighton to London line. The 07:44 train. Carriages packed with commuters. A woman applies her make-up. Another occupies her time observing the people around her.
A husband and wife share an affectionate gesture. Further along, a woman flicks through a glossy magazine.
Then, abruptly, everything changes: a man has a heart attack, and can't be resuscitated; the train is stopped, an ambulance called.
For at least three passengers on the 07:44 on that particular morning, life will never be the same again.
Lou witnesses the man's final moments. Anna and Lou share a cab when they realise the train is going nowhere fast.
Anna is Karen's best friend. And Karen? Karen's husband is the man who dies. Telling the story of the week following that fateful train journey, One Moment, One Morning is a stunning novel about love and loss, about family and -- above all -- friendship.
A stark reminder that, sometimes, one moment is all it takes, it also reminds us that somehow, and despite everything, life can and does go on.
Information
Format: Paperback
Pages: 416 pages
Publisher: Pan Macmillan
Publication Date: 17/06/2010
ISBN: 9780330508841
Free Home Delivery
on all orders
Pick up orders
from local bookshops
Reviews
Showing 1 - 4 of 4 reviews.
Review by nocto
16/06/2015
I was expecting more of this book really. It opens with a death on the morning commuter train to London, and then follows the aftermath of that sad event in the lives of several people affected by it. There's some great observations about everyday life and the nature of relationships in here but I never really cared about any of the characters. It never seemed to add up to much and I wanted more from it.
Review by laphroaig
16/06/2015
On a morning commuter train a man dies, and "One Moment, One Morning" then dwells on the lives of three people impacted. The author's other career, as a copywriter, is probably responsible for the novel's slick narrative. Unfortunately the characters and their predicament is as compelling as any copywriters's copy - professional but not interesting (perhaps it is worthy of speculation on whether the author's other profession is also responsible).A confession: "One Moment, One Morning" is undeniably a "woman's book" (although I find the term mildly offensive) and I am a man. Another confession: I found it boring. It is a poor description for a review, but then I struggle to understand quite what it was about the book that started to grate. The characters are not compelling - they are, if anything, irritatingly self-abssorbed - and the pace is, well, non-existent, but it hardly promises to be a tense thriller.Ultimately this novel gives little to its readers. By the end it is like listening to a mobile phone conversation: vaguely annoying for no particular reason.
Review by JulietR
16/06/2015
Anyone who's ever sat people-watching on the train may well identify with the opening of this novel, which follows a week in the lives of three passengers aboard the 07:44 from Brighton to London, and therein lies much of its charm – it's about something that could happen to any of us. Three women, Lou, Anna and Karen, witness the death of one of their fellow commuters, and this deceptively simple tale follows their lives for a week following that incident. It's not packed with murders or magic, instead it is a subtle exploration of love and loss. The narrative drive comes from the emotions of the characters – Karen, the man's wife, who has suddenly lost her beloved husband, Anna, her friend, who is forced to question her own relationship, and Lou, a stranger. All three are brought together by this shared experience. The reviews below suggest 'not enough happens' in this novel, and if it's twists and turns and surprises that make you jump you're after in a plot, this won't appeal to you. It's not a thriller; it's more for fans of Patrick Gale or Maggie O'Farrell, I'd say, and I found it intimate and thoughtful and above all believable, and which made a refreshing change. It made me laugh, and because some of the scenes with Karen and her small children are especially moving, also and had me reaching for a tissue on more than one occasion. Ultimately, it's about self-actualisation: learning to be true to who you really are. The Brighton setting is well-drawn too, so for anyone seeking a contemporary novel about rounded and very likeable characters, I suggest putting this warmly realised novel on your reading list.
Review by dpappas
16/06/2015
I really wanted to like this book, really I did, but I just couldn't. I could never really get into this book. Most of the time I just wanted the book to end already. I also felt like I couldn't connect with the characters. The only part I really liked was the beginning. The book started off okay to me but just went down from there. I did like how the book went through a week. Overall the book was just okay to me, there wasn't anything special about it. I'm sure some people would love this book but it just wasn't my cup of tea.*I received this book through a Goodreads giveaway. That in no way affects the content of my review.*