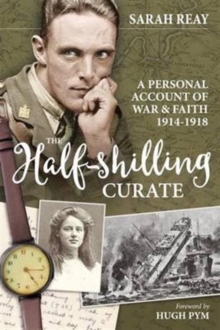 The Half-Shilling Curate : A Personal Account of War & Faith 1914-1918
Hardback
Description
The Half-Shilling Curate, as he was affectionately known by his family, tells the very personal story of an army chaplain - The Reverend Herbert Butler Cowl - from Christmas Eve 1914 to the end of hostilities in 1919.
His descriptive account, from his own personal letters and writings, illustrates the value of faith during the war and the balance between serving God and carrying out his duties as a captain in the British Army.
Herbert's engaging story told of the man who matured from humble Christian beginnings to the start of his journey discovering faith, love and a sense of duty and moral responsibility.
At the outbreak of war, he volunteered to become a Wesleyan Army Chaplain.
With meticulous detail, the reader is taken on Herbert's journey with the Durham Light Infantry from the objective view of life in the Army Home Camp in Aldershot, to the adventure of France and the reality of Flanders on the Western Front near Armentieres.
Whilst serving at the front, his service was cut short when he was severely wounded during heavy enemy bombardment at the front.
On his journey back to England, he was placed in a cot bed aboard the hospital ship Anglia when she hit a German mine in the Channel.
As a result of Herbert's actions on that fateful day, he became one of the first Wesleyan Army Chaplains to receive the Military Cross for exemplary gallantry.
His second battle was recovery - and although he was never fit enough to return to overseas duties, he returned to work as an Army Chaplain in the army garrisons and home camps in England.
The book gives an insight into day-to-day life and the strains of service as an Army Chaplain on the Home Front at Colchester and Portsmouth.
Twenty years later, Herbert - a Methodist minister with a family living in Acton - found himself in the centre of another battle: the Second World War.
As he stayed in London through the London Blitz, again the reader gains an understanding of one man's faith during war and the comparisons that can be seen for a new generation.
Herbert's story concludes with the final chapter of his life and the intimate observations of a spiritual man driven to follow his faith during war.
Information
Format: Hardback
Pages: 200 pages, approx 40 b&w ills & 2 maps
Publisher: Helion & Company
Publication Date: 15/10/2016
ISBN: 9781911096467
Free Home Delivery
on all orders
Pick up orders
from local bookshops