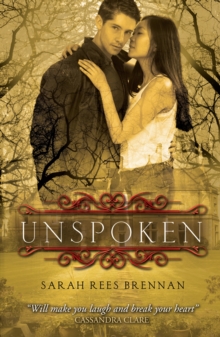 Description
Kami Glass is in love with someone she's never met - a boy the rest of the world is convinced is imaginary.
This has made her an outsider in the sleepy English town of Sorry-in-the-Vale, but she doesn't complain.
She runs the school newspaper and keeps to herself for the most part - until disturbing events begin to happen.
There has been screaming in the woods and the dark, abandoned manor on the hill overlooking the town has lit up for the first time in 10 years.
The Lynburn family, who ruled the town a generation ago and who all left without warning, have returned.
As Kami starts to investigate for the paper, she finds out that the town she has loved all her life is hiding a multitude of secrets- and a murderer- and the key to it all just might be the boy in her head.
The boy who everyone thought was imaginary may be real...and he may be dangerous.
Information
Format: Paperback
Pages: 384 pages
Publisher: Simon & Schuster Ltd
Publication Date: 01/09/2012
Category: Fantasy
ISBN: 9780857078070
Free Home Delivery
on all orders
Pick up orders
from local bookshops
Reviews
Showing 1 - 2 of 2 reviews.
Review by wyvernfriend
16/06/2015
NOOOOOOOOO!!! This was a very enjoyable story of a half-Japanese girl in the small English village of Sorry-in-the-Vale. She starts a school newsletter and is curious about the Lynburn family who were prominent in the village. Rumour has it that some of them have returned and some of them to the school too.Also, all her life, Kami has had a dialogue in her head with a boy. She believes he's imaginary, but actually he's one of the Lynburns. Jared is a bad boy with bad attitude and everyone seems to distrust him. Kami starts to investigate the Lynburns and her life will never be the same again.I had some ideas about what was going on, it is very reminiscent of gothic novels and I've read a fair few over the years. The characters were quite well drawn and I enjoyed the read, the only thing I didn't like is the cliffhanger at the end. I wanted to know NOW what happens next.
Review by Cynical_Ames
16/06/2015
Charismatic and funny characters with a <b>mixed race</b>, part Japanese protagonist, made this an engaging and joyful read. I loved the show-stoppingly beautiful Angela's lazy, sleepaholic and anti-social character. Kami's self-respect, self-awareness, common sense and individuality were appreciated. Brennan was obviously determined to set her heroine apart from the clueless, unhealthy role models from other books.<br/><br/>The <B>love triangle</b> didn't bother me until the end because it was weighted in Jared's favour so there wasn't much angst. Jared's apparent but unexplained dislike of touching Kami was distinctly unusual, because what teenage boy doesn't want to touch a girl (or another boy)? This led to a distancing of the two characters which <i>was</i> a bit angsty. <br/><br/>I'm not happy with the way things ended (although it was a <b>healthy decision</b> Kami made) because it's not just a normal <b>cliffhanger</b>, it completely opened the door to unoriginal love triangle angst characteristic of many other YA novels. This does <i>Unspoken</i> a disservice because the rest of the book was highly enjoyable.<br/><br/>The mystery is a little thin on the ground but as the focus was on establishing the personalities of the characters I didn't mind so much since the culprit(s) wasn't obvious and events weren't predictable. <br/><br/>The mention of a political science class confused me since we don't study that in the UK (or at least that's not what we call it) and <i>Unspoken</i> is set here. I'm also aware there were some Britishisms others may not understand though I don't think it's prohibitive to enjoyment.<br/><br/>I'll most likely wait for reviews for the sequel from those I trust before I decide to invest in something I could quite easily hate.