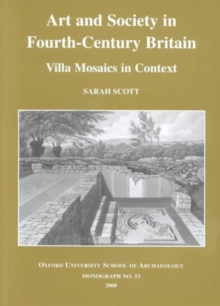 Art and Society in Fourth-Centry Britain : Villa Mosaics in Context
Paperback
Description
This volume builds upon the copious and varied research on villa mosaics in Roman Britain and evaluates it within the context of elite social life in the 4th century AD.
It argues that the mosaics were an integral part of the rich lifestyle of the elite in this period and played an important role in defining their status.
Yet these symbols of power were apparently no longer valued to the same degree by the end of the 4th century. In a priod of increasing social and economic instability, the mosaics were one element in an elite lifestyle which was ultimately to prove socially diversive.
In this wide-ranging study, Scott considers the significance and long-term impact of the artistic choices made by villa owners.
Free Home Delivery
on all orders
Pick up orders
from local bookshops