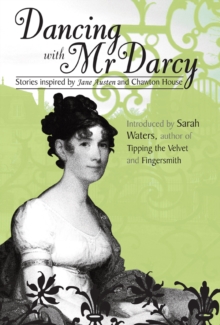 Dancing With Mr Darcy : Stories Inspired by Jane Austen
Paperback
Information
Format: Paperback
Pages: 246 pages
Publisher: Honno Ltd
Publication Date: 15/10/2009
ISBN: 9781906784089
Free Home Delivery
on all orders
Pick up orders
from local bookshops
Reviews
Showing 1 - 2 of 2 reviews.
Review by wyvernfriend
16/06/2015
Some of the stories stood out in my mind and some just passed by. It does start with a standout one, Jane Austen over the Styx by Victoria Owens entertained me, the idea of Jane being judged by her lesser characters made me smile.Second Thoughts by Elsa A Solender has Jane Austen contemplate her acceptance of marriage.Jayne by Kirst Mitchell is a quite short story about a woman dealing with compromise to get ahead.The Delaford Ladies Detective Agency has a Sense and Sensibility meets Miss Marple meets No 1 Ladies Detective Agency vibe. I enjoyed it.Tears fall on Orkney is a tale of love and understanding, inspired by, not one of my favourites. Eight Years Later is another tale of love lost and found. I didn't care for Broken Words at all.Miss Austen Victorious features an Austen play during World War II England. Cleverclogs tugged at my heartstrings. Snowmelt resonated deeply (I work as a Librarian). The Watershed I found unremarkable, as I did Somewhere. The Oxfam Dress went nowhere and didn't resonate at all. Marianne and Ellie modernised characters and was okay, The Jane Austen Hen Weekend was meh. One Character in Search of her Love Story Role was an interesting exercise but tried too hard to be clever (footnotes, really?). Second Fruits was a nice encapsulated romance. The School Trip was nice and simple. We Need to Talk about Mr Collins, honestly I barely remember, it didn't really resonate at all, likewise with Bina.Overall not a bad set of stories, probably something there for most. None of them made me want to hunt up all the works of the various authors though.
Review by Cariola
16/06/2015
A rather ho-hum collection of short stories selected by Sarah Waters as the best entries submitted to a competition sponsored by the Chawton House Library in 2009. All the stories were "inspired" by Jane Austen's life, works, home at Chawton, or the Chawton House Library itself. In the winning story, "Jane Austen over the Styx," the author descends into hell, charged with creating older female characters who are either snobs, scolds, harpies, or selfish manipulators--some of whom are there to give testimony. This is perhaps the best of the lot. I was at times at a loss to see the Austen connections in others, such as the fantasy-like "Broken Words." Overall, not a bad collection, but very hit and miss.