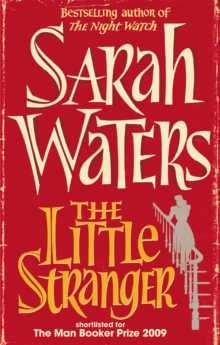 The Little Stranger
Paperback
Description
In a dusty post-war summer in rural Warwickshire, a doctor is called to a patient at lonely Hundreds Hall.
Home to the Ayres family for over two centuries, the Georgian house, once grand and handsome, is now in decline, its masonry crumbling, its gardens choked with weeds, its owners - mother, son and daughter - struggling to keep pace.
But are the Ayreses haunted by something more sinister than a dying way of life?
Little does Dr Faraday know how closely, and how terrifyingly, their story is about to become entwined with his.
Information
Format: Paperback
Pages: 512 pages
Publisher: Little, Brown Book Group
Publication Date: 05/01/2010
ISBN: 9781844086061
Free Home Delivery
on all orders
Pick up orders
from local bookshops
Reviews
Showing 1 - 5 of 13 reviews.
Previous | Next
Review by pokarekareana
16/06/2015
This was my third Sarah Waters book – the previous two being The Night Watch and Tipping The Velvet – and having loved the others, I came to this with perhaps unrealistically high expectations, buoyed up by its critical acclaim among People What Say Clever Things About Books. The writing, as ever, was beautiful to read and entirely transported me to the settings Waters created in this novel. However, when I arrived, I found myself a little bewildered. At times, I was completely absorbed by the plot, but at other times, I felt like it was plodding along very slowly. The characters were great and I could picture them down to the last detail, which was brilliant. Overall, I was a tiny bit disappointed with this and if you've never read any of her work before, I would suggest that you start with The Night Watch.
Review by Virtual_Jo
16/06/2015
An engaging story about a family living in the ravaged remains of their once wealthy estate, plagued by a malicious presence. Is it real or not? A twist in the telling, more subtle than Waters' trademark plot corkscrews, but nevertheless chilling.
Review by MikeFinn
16/06/2015
In this period piece, Sarah Waters provides a fascinating window on the demise of the English landed gentry at the end of World War 2. She creates a fundamentally ambiguous tale of gentry fallen on hard times who seem to be literally haunted by their past and entombed in the wealth-turned-to-debt of their isolated manor house. Yet this is more than an essay on class decay or even on the impact of the supernatural. Waters' has the rare ability to expose the small nuances emotion that drive our behaviour, some times almost against our own will. This novel reminds me of Edith Wharton's "The House of Mirth" in its ability to chronicle the changes of mood and context that even a single evening can hold.
Review by isabelx
16/06/2015
Mrs Ayres sighed. 'How this house likes to catch us out, doesn't it? As if it knows all our weaknesses and is testing them, one by one . . . God, how dreadfully tired I am. Were the strange and tragic events at Hundreds Hall caused by the ghost of a dead child, a poltergeist linked to the presence of a homesick adolescent maid, a taint of ancestral madness, the phantasm of a living person obsessed by the house (whether through wanting to possess the house, or wanting to escape from it), or by the house itself complaining of neglect? I quite like the fact that you never find out what has caused the strange events at Hundreds Hall, although the last few pages do seem to point in one direction. Both the family and their servants realise that it is the Ayres family who are being targetted. The servants may be teased and frightened, but it is only members of the family who are harmed. 'I haven't done nothing,' she said, 'and I haven't said nothing! I don't like to think of it, anyhow. It makes me frit if I think about it when I'm downstairs on me own. It isn't my bad thing, that's what Mrs Bazeley says. If I don't go bothering him, she says, he won't come bothering me.' I found Doctor Faraday quite creepy. He worms his way into the household, and seems not to see how much of a burden the decrepit house is to the Ayres family. Or rather, he does not want to see it, and no matter how many times they mention it, he brushes their worries aside. I noticed that it is shortly after he hears that Rod may possibly stop him from using the short-cut across the park, that Faraday started to push for Rod being committed, either voluntarily or against his will. Rod has to be got rid of because he is the one who keeps reminding his mother and sister of Faraday's social inferiority, and I don;t think he would ever have countenanced Faraday courting his sister. So I am leaning towards the trigger being the arrival of Doctor Faraday; maybe his obsessions did lead to the creation of a phantasm, but maybe he gave events the odd push himself, either consciously or not. Although it is hard to tell Faraday's real motivation because he is the one telling the story, and no doubt twisting it to put himself in a better light, I don't think he loves Caroline at all. I think that in order to raise his social status and get his hands on Hundreds Hall, he is willing to put up with her plain looks, but only as long as she conducts herself as a member of the landed gentry should. He seems to actively hate her whenever he sees her covered in dirt doing housework like a maid, His obsession with the decaying house that is in reality a millstone round the Ayres' neck is senseless. It is not as if he is 'new money' riding to the rescue, like Caroline's ugly but extremely wealthy great-grandmother; he is a struggling doctor from working-class roots, who doesn't even own his own house. With him as head of the family and refusing obdurately to sell up, Hundreds Hall would have continued to fall apart, eating up the family's remaining capital and leaving them with nothing. But he still got what he wanted in the end.
Review by eleanor_eader
16/06/2015
Hundreds Hall is dilapidated, a crumbling echo of its own grand past. When Dr. Faraday is called back to this house, that holds for him a childhood memory, he is appalled and even compelled by its decline. But there is another enemy, more insidious even than time, overshadowing the family struggle to keep Hundreds maintained, and as Dr. Faraday becomes more closely entwined with the family, he becomes our narrator to increasingly terrible events.As a comparable example of gothic mystery, it's unfortunate that Waters doesn't have Susan Hill's sublime gift of crafting tension through description, nor Shirley Jackson's effortless use of every histrionic hue in the 'gothic' spectrum; Waters' strengths are strong, sympathetic characterisation and an excellent handle of the threads of mystery, never pulling too hard on any, and letting the reader truly wonder what was going on at Hundreds; I far prefer books that keep the reader thinking than mysteries that are tidied up mundanely, and Waters lets us bounce between theories – hysteria, haunting, bad energy, bad luck, madness – without skipping a beat in the story's understated but steady pace.Best of all is the involvement of the Dr. Faraday, the growing realisation that while he might not be an unreliable narrator in the usual sense, he is almost wilfully oblivious of the danger surrounding the family, and even his own motivations; his acquisitive pull towards Caroline and, by extension, Hundreds, for example, that reaches back to his seemingly innocent childhood vandalism, and his inability to let it go in the end give the reader another intriguing thread. Is Dr. Faraday another victim of the hall, or an instigator, or just a foil for Caroline's sometimes manipulative neediness? All the tension in <i>The Little Stranger</i> comes from the way the characters are caught on their own helplessness, their refusal to confront, or even withdraw from, the things that are happening to and around them.Absolutely readable, but suffering slightly from comparison to more chillingly presented 'haunted house' tales, I can't say that this is perfect storytelling, but both my interest and my emotion were provoked (I am a sucker, if nothing else, for tragic animal storylines… poor old Gyp!) and I do enjoy Waters' easy writing style. I also liked the unexpected imagery in the title; I expected, of course, that the 'little stranger' was the long-dead first daughter of Mrs. Ayres; the idea that it might be a small, seemingly insignificant germ of bad energy or paranormal phenomenon – or hysteria – that had grown, unchecked, was an unusual one.