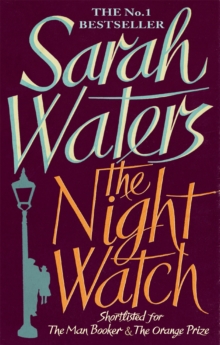 The Night Watch
Paperback
Description
Moving back through the 1940s, through air raids, blacked out streets, illicit liaisons, sexual adventure, to end with its beginning in 1941, The Night Watch is the work of a truly brilliant and compelling storyteller.This is the story of four Londoners - three women and a young man with a past, drawn with absolute truth and intimacy. Kay, who drove an ambulance during the war and lived life at full throttle, now dresses in mannish clothes and wanders the streets with a restless hunger, searching . . . Helen, clever, sweet, much-loved, harbours a painful secret . . . Viv, glamour girl, is stubbornly, even foolishly loyal, to her soldier lover . . . Duncan, an apparent innocent, has had his own demons to fight during the war.
Their lives, and their secrets connect in sometimes startling ways.
War leads to strange alliances . . . Tender, tragic and beautifully poignant, set against the backdrop of feats of heroism both epic and ordinary, here is a novel of relationships that offers up subtle surprises and twists. The Night Watch is thrilling. A towering achievement.
Information
Format: Paperback
Pages: 512 pages
Publisher: Little, Brown Book Group
Publication Date: 21/10/2006
ISBN: 9781844082414
Other Formats
EPUB from £4.49
Paperback from £9.75
PDF from £10.44
Free Home Delivery
on all orders
Pick up orders
from local bookshops
Reviews
Showing 1 - 5 of 11 reviews.
Previous | Next
Review by sloopjonb
16/06/2015
Waters is a very good writer; her description, characterisation and dialogue are terrific, and her evocation of time and place (in this case 1940s London) is fantastic. But she has a problem with plots. Tipping the Velvet, her first novel, had a great plot, with a satisfyingly climactic ending, but her second, Affinity, got lost up its own fundament, whilst her third, Fingersmith, had a plot that was hackneyed in Dickens' day, and no less ridiculous for being exhumed in a spirit of homage and post-modern irony. The Night Watch is a work of greater craft than all of these, but it doesn't really have a plot. It's the only flaw, mind you. The story, or stories, proceed backwards, from 1947, to 1944 and finally 1941, and the reader is kept agog trying to work out what the connections between the characters are. Kay, Helen, Duncan, Viv and Julia all come across as real people, whom we care about (especially Kay, for my money the true heroine). Real life never ties up all the threads of life in a neat bow, and Waters doesn't either: we are left with many unanswered questions; she leaves us wanting more, and this is right and fitting. I give it 9/10, and look forward to more from Waters.
Review by queen_evie
16/06/2015
It is based around the lives of four Londoners in the 1940s, in and around wartime - starting in 1947 and ending at its beginning in 1941. An incredibly intense and vivid book, slightly different in style from others of hers I've read... but still with that beautifully descriptive and insightful SW touch, I thoroughly enjoyed it and during the last 100 pages couldn't put it down.In the first section everyone seems to have a mysterious past, and it's hard to understand the characters in their entirety, but by the end you love and sympathise with every one of them. I particularly liked the relationship between Kay and Mickey their utter companionship and CHUM-ness! Each character has a depth and beauty to them - and the way the book is written, working backwards, makes you think right from the start "what has happened to make these people like this?" I almost had the urge to flip through to the end or the middle as soon as I started - but that would've ruined it, and the way to truly enjoy Waters' writing is to get lost amid her words. I think her work is usually more 'flight-and-fancy' based, with lots of poetry and erotica and frills; but setting this book against the backdrop of wartime London meant she had to pale her tone a bit. However, she made the bleakness work to her advantage, and, again, I have learnt so much from this book... even through fiction, I always feel I have grown from reading her work.
Review by thorold
16/06/2015
I found this a bit of a disappointment. Had it been written by anyone else I would have given it at least four stars, but it doesn't live up to the expectations that Waters built up by her earlier novels. It's a very good, well-researched historical novel with characters who are more than just period stock figures, but it doesn't really tell us anything about wartime London that we didn't know already. Waters is writing about characters of the generation somewhere between my (and presumably also her) parents and grandparents. These are people we have met ourselves, whose memoirs and letters we have read, whose own novels we are familiar with: a novel like this that lifts up a corner of the blackout curtain and reveals a few scurrying lesbians and conscientious objectors in between the bombs can't have the striking effect of her earlier reworkings of Dickens and Wilkie Collins. The storyline is also a bit flat - the idea of a series of episodes working progressively back from 1947 towards a group of key events in 1941 would make sense in the context of a mystery story, but there isn't really any mystery here. Possibly Waters wanted to avoid repeating the teasing reversals of the plot of <i>Fingersmith</i>, but I had the feeling that the book needed a little more to keep the momentum up.
Review by whirled
16/06/2015
In <i>The Night Watch</i>, Sarah Waters signals an ambitious leap forward via her use of reverse chronology and the relatively complex intermingling of her characters lives. Her efforts were rewarded handsomely, earning places on the Man Booker and Orange Prize shortlists. Having just devoured the book in a couple of late-night sittings, I'd have to agree the recognition was well deserved. Waters' cleverly interwoven threads mesh together to create the stories of five young Londoners during World War Two. I found myself most intrigued by the Kay-Helen-Julia story; the sections about the young prisoner Duncan were somewhat dull by comparison. Yet I can easily imagine that for some readers the reverse would be true. Overall, <i>The Night Watch</i> was an engaging, thoughtful and subtly sexy book - what in years to come will be known as "vintage Waters".
Review by alionora
16/06/2015
The Night Watch is the story about four people in a London marked by the Second World War, all trying to find a way for themselves. Kay was an ambulance driver during the war, fearless, energetic, loved and in love. Now she wanders the street, not certain what she's searching for. Helen is living with Julia, having all she could wish for, but she's plagued by jelousy and guilt. Viv knows that she's wasting her life waiting the next stolen moment with her married lover, but can't bring herself to give him up. Her younger brother Duncan spends the days with mindless work in a factory and the nights with his "uncle", fading away a bit more every day. The lives of these characters, and the supporting cast, intertwine more than you can imagine when you first start reading.The book is written in three parts, taking place in 1941, 1944 and 1947, but in reverse chronological order. I'm usually not fond of tricks like that, but in this case it works. Veil after veil is lifted, to reveal some of the mystery surrounding these characters, but not all. When I'd finished reading, after the part set in 1941, I admit I was a little bit disappointed. I didn't get the answers I'd been looking for, I wanted to know more about these persons, and most importantly, what happened to them. But I went back to the start and read some parts from the 1947 block again, and found that I knew more that I thought I did.A lot of people seem to find The Night Watch dull compared to Sarah Water's other books. I've only read Tipping the Velvet, which was wonderful, but I actually like this one better. Perhaps it's not exciting, but it's definitely compelling.My favourite part about the book is that, even though it's set in the 40s, the characters' sexuality is treated as a fact, and not as an issue. They have problems in their relationships, of course, but it's not because some of them happen to be gay, it's simply because they're human. It's a rather unusual approach in fiction, and very refreshing.The war is treated much in the same way. It's there, ruthlessly shaping their lives, but it's not really commented on.I had a lovely time reading this book, enjoying Sarah Water's wonderful langague, and I definitely recommend it.