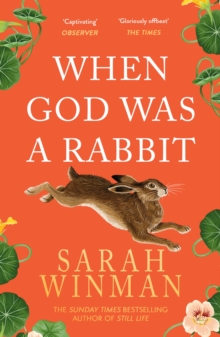 When God Was a Rabbit : The Richard and Judy Bestseller
Paperback
Description
Sarah Winman's bestselling, critically-acclaimed debut novel WHEN GOD WAS A RABBIT continues to captivate and enchant readers.1968.
The year Paris takes to the streets. The year Martin Luther King loses his life for a dream.
The year Eleanor Maud Portman is born.Young Elly's world is shaped by those who inhabit it: her loving but maddeningly distractible parents; a best friend who smells of chips and knows exotic words like 'slag'; an ageing fop who tapdances his way into her home, a Shirley Bassey impersonator who trails close behind; lastly, of course, a rabbit called God.
In a childhood peppered with moments both ordinary and extraordinary, Elly's one constant is her brother Joe.Twenty years on, Elly and Joe are fully grown and as close as they ever were.
Until, that is, one bright morning when a single, earth-shattering event threatens to destroy their bond forever.
Spanning four decades and moving between suburban Essex, the wild coast of Cornwall and the streets of New York, this is a story about childhood, eccentricity, the darker side of love and sex, the pull and power of family ties, loss and life.
More than anything, it's a story about love in all its forms.
Information
Format: Paperback
Pages: 352 pages
Publisher: Headline Publishing Group
Publication Date: 01/05/2011
ISBN: 9780755379309
Free Home Delivery
on all orders
Pick up orders
from local bookshops
Reviews
Showing 1 - 5 of 5 reviews.
Review by alexdaw
16/06/2015
I just loved this book. In terms of style it reminded me a bit of John Irving The World According to Garp - that kind of whimsical mixed with matter-of-fact reportage, if that makes sense. It's impossible to describe the story without doing it justice and/or giving away plot points. Yes, its a coming of age story but one with a bit of a twist. It's also a brother/sister type story too. Perhaps a bit of To Kill a Mockingbird thrown in. There's some very wry humour and some lovely writing/observations of life. What did you think of it?
Review by booktwitcher
16/06/2015
This book reminded me of 'Black Swan Green' by David Mitchell, as there was so much 70's/80's description. It was a quick and easy read yet some of the topics covered were anything but. I read it as part of a reading group, and I must admit the title was not very promising, but I am glad to report it was better.
Review by RefPenny
16/06/2015
When Elly suggested to the Sunday School teacher that Jesus was the result of an unplanned pregnancy, she was told that God didn't love her any more. So when she was given a rabbit she called him 'god'. God may not have loved her, but god did and so did her older brother Joe and the rest of her somewhat off beat family. Although lots of things happen in this book – many of them unpleasant – the main appeal of this book is the characters and their relationships. This book would appeal to mature teens who like books that make them think.
Review by voracious
16/06/2015
This is a delightfully quirky coming-of-age story about a young girl growing up in the 70's in a slightly off-beat family. Elly grew up protected by her older brother Joe, who became her best friend and confidant over the years. The storyline integrates luck and fate as Elly's best friend, Jenny Penny, tends to predict the future throughout the novel. Though somewhat odd as a family, they are a heartwarming bunch who tend to draw in outsiders, particularly after the family decides to open a bed & breakfast, which draws in a few more quirky characters, who are also endearing and enjoyable. A number of the characters have openly gay relationships with one another and though not erotic, there is a good amount of humor in how the characters interact in their openness towards sexuality. The second half of the story tightens up the plot as foreshadowing begins to pull the storyline together along several themes. As tragic events unfold, I found myself choked up at several points as I found I had become very attached to the relationships between the characters! Though only her debut novel, this was one of the best books I've read in a while. Highly enjoyable, touching storyline, great characters and a very well put-together plot. I definately look forward to reading another novel from Ms. Winman!
Review by passion4reading
16/06/2015
Written in the first person, this is a (fictitious) biographical account of Eleanor and her unconventional, yet loving family. The reader accompanies her through childhood trauma and friendship until the age of twelve; we then rejoin her at the age of 26, now a rather disillusioned adult.I was intrigued by the title and had heard lots of good reviews about this book but unfortunately it didn't live up to its expectations, in my opinion. As you can already tell from my synopsis, there isn't really much to say about the plot, mainly because it's such a hotchpotch of separate events that only have Eleanor in common. Some of the things happening to her and her family and friends are (in no particular order): a coach accident that kills her grandparents; her father escaping several bomb attacks; sexual abuse; a football pools win; a kidnap; a prison sentence for murder; cancer; an assault and mugging with resulting amnesia on the day before 9/11 - all a bit far-fetched, don't you think? As the author states in her notes at the end of the book, "had the book's timeframe extended beyond 2001, the atrocity of Bali in 2002, Madrid in 2004 and London in July 2005 would all have been mentioned too". I have no doubt that somehow Eleanor, a friend or a member of her family would all have been caught up in those events as well (rather like Forrest Gump?). The question is, why accumulate such an array of life-changing experiences when one or two would have sufficed and made the novel more credible? It's somehow like the author had lots of ideas to bring to this project, and lots of messages to get across, but didn't know how to tie them all together and so turned the book into a memoir of sorts. Some of the events are described in great detail, others are merely touched upon and then dropped. (Did anyone understand the bit with Jenny Penny pulling a 50-pence piece from the future from inside her arm?) Her prose is quite beautiful at times, and yet she could find no other verbs to replace "said": half a page of alternating "I said", "he/she said" made me want to scream at times. The mystical plot devices (Arthur's "knowledge" of his death, Jenny Penny reading tarot before 9/11, not to mention the rabbit) sit rather awkwardly amongst all the realism the novel is depicting, and I was left quite bewildered and confused, thinking that I'd missed some vital clues. In the end, it left a very unsatisfactory feeling and one of "glad that's over"; pity.