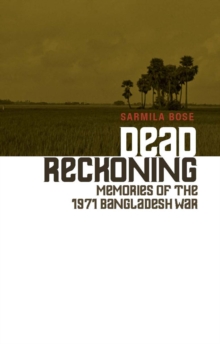 Dead Reckoning : Memories of the 1971 Bangladesh War
Paperback / softback
Description
This ground-breaking book chronicles and analyzes the 1971 war in South Asia by reconstituting the memories of those on opposing sides of the conflict. 1971 was marked by a bitter civil war within Pakistan and war between India and Pakistan, backed respectively by the Soviet Union and the United States.
It was fought over the territory of East Pakistan, which seceded to become Bangladesh.
Through a detailed investigation of events on the ground, Sarmila Bose contextualises and humanizes the war while analysing what the events revealed about the nature of the conflict itself.
The story of 1971 has so far been dominated by the narrative of the victorious side.
All parties to the war are still largely imprisoned by wartime partisan mythologies.
Bose reconstructs events using extensive interviews conducted in Bangladesh and Pakistan, published and unpublished reminiscences in Bengali and English of participants on all sides, official documents, foreign media reports and other sources.
The chronicling of events through a multiplicity of memories reveals what had been previously unknown or poorly recorded.
Moreover, 'contesting' memories reveal a reality diverging from the dominant narrative in crucial ways.
It challenges assumptions about the nature of the conflict, and exposes the ways in which the 1971 conflict is still playing out in the region.
Information
Format: Paperback / softback
Pages: 288 pages
Publisher: C Hurst & Co Publishers Ltd
Publication Date: 27/04/2011
Category: Asian history
ISBN: 9781849040495