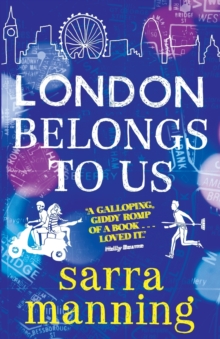 London Belongs to Us
Paperback / softback
Description
'Fast and funny and happy-making' Lisa Williamson, author of THE ART OF BEING NORMALTwelve hours, two boys, one girl . . . and a whole lot of hairspray. Seventeen-year-old Sunny's always been a little bit of a pushover.
But when she's sent a picture of her boyfriend kissing another girl, she knows she's got to act.
What follows is a mad, twelve-hour dash around London - starting at 8pm in Crystal Palace (so far away from civilisation you can't even get the Tube there) then sweeping through Camden, Shoreditch, Soho, Kensington, Notting Hill . . . and ending up at 8am in Alexandra Palace. Along the way Sunny meets a whole host of characters she never dreamed she'd have anything in common with - least of all the devilishly handsome (and somewhat vain) French 'twins' (they're really cousins) Jean Luc and Vic.
But as this love-letter to London shows, a city is only a sum of its parts, and really it's the people living there who make up its life and soul. And, as Sunny discovers, everyone - from friends, apparent-enemies, famous bands and even rickshaw drivers - is willing to help a girl on a mission to get her romantic retribution. A fast-paced, darkly funny love letter to London, boys with big hair and the joys of staying up all night.
Information
Format:Paperback / softback
Pages:272 pages
Publisher:Hot Key Books
Publication Date:02/06/2016
Category:
ISBN:9781471404610