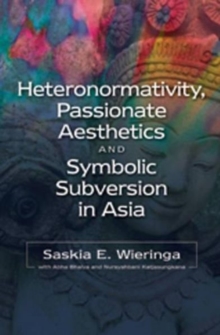 Heteronormativity, Passionate Aesthetics & Symbolic Subversion in Asia
Paperback / softback
Description
This book examines life trajectories among three categories of women living beyond the bounds of heteronormativity in Jakarta and Delhi, two major cities with substantively different religious and social values: women who have lost their husbands, either through divorce or death; sex workers; and young, urban lesbians.
Delhi has a large Hindu majority and a sizeable Muslim minority, amongst other religious and cultural pluralities.
The Indian state is constitutionally committed to secularism and equal respect to all regions despite right-wing Hindu fundamentalism.
Jakarta is the capital of a sprawling archipelago with a large variety of ethnic cultures, Indonesia having the largest Muslim population of the world, as well as sizeable ethnic and religious minorities comprising Christians, Hindus, Buddhists and others.
The Indonesian state is constitutionally secular, but religion plays a large role in public life and is embedded in regulations that strongly impact peoples private lives.
Recently, there have been strong political currents to impose stricter Islamic codes.
The public arena of sexual politics, in which the media play an important role, is explored in both cities. Hot sex is a major media selling point, particularly in Indonesia.
Heteronormativity entails a system of symbolic violence in the sense that it punishes those that it excludes and polices those that it includes; the ways its powers are subverted are likewise symbolic.
Passionate aesthetics refers to the dynamics, motivations, codes of behavior and presentation, subjectivities and identities that together make up the complex workings of erotic attraction, sexual relations and partnerships patterns.
By charting the lives of women who live beyond the boundaries of the heteronormative, commonalities are revealed; boundaries and regulatory mechanisms in the context of symbolic violence are delineated; and the issue of the struggle for sexual rights for marginalized groups, and their open rebellion, brought to the fore.
At the heart of the book lies elaboration of the ways Asian families are constructed their social, economic, sexual and religious agency, and how these engage with state-led values.
The book is written with the assistance of Abha Bhaiya and Nursyahbani Katjasungkana, and a research team whose names are detailed on the Press website.
Information
Format: Paperback / softback
Pages: 296 pages
Publisher: Sussex Academic Press
Publication Date: 01/09/2015
Category: Gender studies: women
ISBN: 9781845197698
Free Home Delivery
on all orders
Pick up orders
from local bookshops
Also by Saskia E. Wieringa