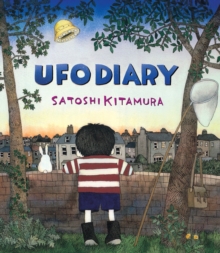 Description
A UFO is lost in space, until it spots a strange, blue planet.
Zooming in for a closer look, the UFO discovers a curious creature watching it.
The two quickly become friends and explore the earth and heavens together in one unforgettable afternoon.
Information
Format: Paperback
Pages: 32 pages
Publisher: Andersen Press Ltd
Publication Date: 01/03/2007
Category: Picture books
ISBN: 9781842705919
Free Home Delivery
on all orders
Pick up orders
from local bookshops
Reviews
Showing 1 - 2 of 2 reviews.
Review by cmiersma
16/06/2015
This is the story of a UFO who lands onto Earth to be met by a little boy who befriends him. They boy shows the UFO Earth, and the UFO takes the boy on a ride around space. In the end, the UFO must return to his planet, but not before the boy gives the UFO a dandelion to bring back with him. The book is a good example of science fiction because things like UFO's are a type of fantasy that includes science and possibly technology. Although this book does not contain any type of serious conflict that most science fiction story have. A teacher could use this book in a classroom to teach students more about outer space. There are some good pictures of space in this book that students could look at and get an idea of what things might look like. Teachers could also introduce the idea of UFO's and that like this book, there is no such thing, but how it is often fun to make stories about UFO's. Media: Oil PaintOne of the main characters in this book is the little boy. He has no lines in this book, but his character seems to grow as he gets to spend more time with his UFO friend. He at first seems like a scard little boy, but soon developes into someone that cares and relates to his new friend.
Review by SJKessel
16/06/2015
Kitamura, S. (1989). UFO Diary. New York: Farrar Straus Giroux0374380260Appetizer: An alien shares his story (a diary entry?) of how he/she/it took a wrong turn and landed on Earth where he/she/it made a new friend.I put the diary entry part as a question above because there is no actual mention (or showing) of a diary throughout the story. Instead, this is a first person account in an alien's childlike voice. This makes me wonder if Kitamura and the publisher had trouble picking a name for the book.I liked the illustrations of this book. The dark blues that capture space are beautiful. The faces the human boy makes when he sees the narrator are humorous and cute (although, the boy is so pale, he looks kinda like a particularly expressive zombie).The strengths of these illustrations is how completely they're given from the perspective of the alien. The visitor's body is never shown and the reader is always seeing from his/her/its perspective so they can see the familiar world in a new light.The final illustration--I won't give away what it is of--reminded me strongly of one of the sketches in de Saint-Exupery's classic, The Little Prince. I'd be willing to bet money this was done intentionally. Let's say, two dollars, maybe? (I never said I'd bet a lot of money.)Dinner Conversation:"On Monday, I took a wrong turn in the Milky Way.""There in front of me was a strange blue planet, bright as a glass ball.""...until I saw a creature. It stared at me as I landed.""What an odd-looking thing!It spoke and I could not understand'but I smiled. It smiled back.Then I knew he was going to be my friend."To Go with the Meal:This book presents a fun perspective. It shares the relatable tensions of going to a new place and wanting to make friends (even when the potential friends don't speak the same language).Since a white bunny and several other animals are shown in a number of the illustrations, students can seek out and find the bunny.Also, after having read (or heard aloud) this book, kids could write their own diary entries from the perspective of someone or something that has had different experiences from their own. To help present an activity like this one, a teacher could also share some of Doreen Cronin's picturebooks, including Diary of a Worm, Diary of a Spider, Diary of a Fly, and on and on.Tasty Rating: !!!