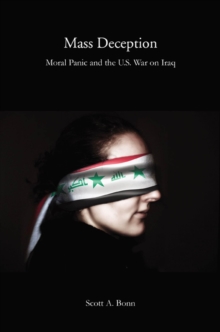 Mass Deception : Moral Panic and the U.S. War on Iraq
Paperback / softback
Description
The attacks of 9/11 led to a war on Iraq, although there was neither tangible evidence that the nation's leader, Saddam Hussein, was linked to Osama bin Laden nor proof of weapons of mass destruction.
Why, then, did the Iraq war garner so much acceptance in the United States during its primary stages?
Mass Deception argues that the George W. Bush administration manufactured public support for the war on Iraq.
Scott A. Bonn introduces a unique, integrated, and interdisciplinary theory called ""critical communication"" to explain how and why political elites and the news media periodically create public panics that benefit both parties.
Using quantitative analysis of public opinion polls and presidential rhetoric pre- and post-9/11 in the news media, Bonn applies the moral panic concept to the Iraq war.
He critiques the war and occupation of Iraq as violations of domestic and international law.
Finally, Mass Deception connects propaganda and distortion efforts by the Bush administration to more general theories of elite deviance and state crime.
Information
Format: Paperback / softback
Pages: 210 pages, 12
Publisher: Rutgers University Press
Publication Date: 15/07/2010
Category: Media studies
ISBN: 9780813547893
Also in the Critical Issues in Crime and Society series | View all