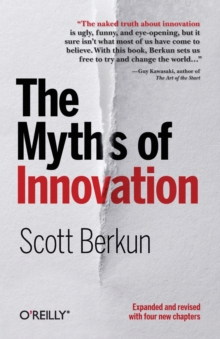 The Myths of Innovation
Paperback
Description
In this new paperback edition of the classic bestseller, you'll be taken on a hilarious, fast-paced ride through the history of ideas.
Author Scott Berkun will show you how to transcend the false stories that many business experts, scientists, and much of pop culture foolishly use to guide their thinking about how ideas change the world.
With four new chapters on putting the ideas in the book to work, updated references and over 50 corrections and improvements, now is the time to get past the myths, and change the world.
You'll have fun while you learn: * Where ideas come from * The true history of history * Why most people don't like ideas * How great managers make ideas thrive * The importance of problem finding * The simple plan (new for paperback) Since its initial publication, this classic bestseller has been discussed on NPR, MSNBC, CNBC, and at Yale University, MIT, Carnegie Mellon University, Microsoft, Apple, Intel, Google, Amazon.com, and other major media, corporations, and universities around the world.
It has changed the way thousands of leaders and creators understand the world. Now in an updated and expanded paperback edition, it's a fantastic time to explore or rediscover this powerful view of the world of ideas. "Sets us free to try and change the world." --Guy Kawasaki, Author of Art of The Start "Small, simple, powerful: an innovative book about innovation." --Don Norman, author of Design of Everyday Things "Insightful, inspiring, evocative, and just plain fun to read.
It's totally great." --John Seely Brown, Former Director, Xerox Palo Alto Research Center (PARC) "Methodically and entertainingly dismantling the cliches that surround the process of innovation." --Scott Rosenberg, author of Dreaming in Code; cofounder of Salon.com "Will inspire you to come up with breakthrough ideas of your own." --Alan Cooper, Father of Visual Basic and author of The Inmates are Running the Asylum "Brimming with insights and historical examples, Berkun's book not only debunks widely held myths about innovation, it also points the ways toward making your new ideas stick." --Tom Kelley, GM, IDEO; author of The Ten Faces of Innovation
Information
Format: Paperback
Pages: 248 pages, 1, black & white illustrations
Publisher: O'Reilly Media, Inc, USA
Publication Date: 14/09/2010
Category: Business innovation
ISBN: 9781449389628
Other Formats
PDF from £9.12
EPUB from £9.12
Free Home Delivery
on all orders
Pick up orders
from local bookshops
Reviews
Showing 1 - 3 of 3 reviews.
Review by gsatell
16/06/2015
Good introduction to basic concepts. If this areas is new to you, it's a great place to start. If you've read widely in this area, not much new.
Review by BookLeverage
16/06/2015
I immediately liked this book after reading the "Commitment to research accuracy" page near the front. Any author who goes above and beyond in their effort to provide the most accurate information they can and even provides a link to report inaccuracies cares about his readers and this resonates throughout the rest of the book.Mr. Berkun has clearly been on a quest to discover not only the basics of creative thinking, but how it relates to entrepreneurs and invention. Using this bottom up approach to innovation allows him to target 10 myths of innovation and analyze them so we can understand where they came from and how to avoid them. Each myth is allotted its own chapter and they are as follows (along with my quick thoughts on each chapter):1.The myth of epiphany (epiphany looks like hard work and wears overalls)2.We understand the history of innovation (the victors write the history)3.There is a method for innovation (great chapter, worth the price of whole book)4.People love new ideas (great ideas usually don't look great, ask Google)5.The lone inventor (one of my favorite chapters - nobody goes it alone)6.Good ideas are hard to find (have more ideas, have crazy ideas, have no fear with your ideas)7.Your boss knows more about innovation than you (don't confuse power with creativity)8.The best ideas win (winning isn't based on how good the idea is)9.Problems and solutions (problems matter and how you define them matters more)10.Innovation is always good (unintended consequences matter)Berkun closes the book with chapters on hype and history, creative thinking hacks, how to pitch an idea and how to stay motivated. His aside in the hype and history chapter that "if you want to be creative, you must create things" is at first glance simple advice, but for me it speaks to the core message of this book: if you want to get anything out of this book you have to do something. He has provided the roadmap, we have to begin the journey.Finally, Berkun does an excellent job of not only listing sources in each chapter (which is nirvana for those willing to further explore original source material), but his "Research and recommendations" appendix, specifically the ranked bibliography, were outstanding ideas and deserve special mention.A definite must read for anyone interested in innovation, ideas, creativity and not only what not to do, but what to do on their innovation journey.
Review by shdawson
16/06/2015
Well written, humerus. A very good collection of tangible facts debunking myths, action plans, and things to avoid.