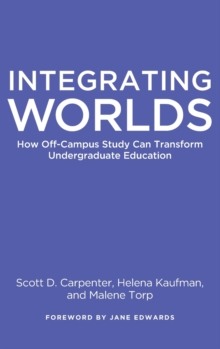 Integrating Worlds : How Off-Campus Study Can Transform Undergraduate Education
Hardback
Description
What if the most powerful education our students ever receive occurs when they study off-campus? This book takes as its premise that the powerful potential to de-center and dislocate students' preconceptions that off-campus study can stimulate and the urgent need for students to gain a broad understanding of the interconnectedness of our world, requires us to question and rethink how we deliver undergraduate education. The authors ask whether we should strive to make this experience available to all our students - as a necessity rather than as a supplement or interlude -- using it to fuel their education and inspire their careers.
They make the case that effective off-campus study (whether study abroad or study away) begins and ends on the home campus, requiring its integration into the curriculum, entwining on-campus and off-campus experiences, and making them mutually reinforcing. They offer evidence that off-campus study, when properly designed and implemented, can have a multiplier effect on learning, particularly when combined with other high-impact practices; asserting it can provide access to complex cultural and scientific problems in their natural context, adding practical and experiential components to classroom learning, and serve as a springboard for more advanced study and research when students return to their home campus. This book proposes that faculty or departments go beyond the generally episodic ways that currently link on-campus curricula to off-campus experience.
It aims to speak, beyond specialists in international or intercultural education, to faculty, deans and provosts who may have little direct experience of study abroad, and feel unprepared to address an issue that is assuming a growing importance as disciplines and institutions address the complexities of our rapidly changing world.
The goal of this book is to fuel such conversations.
Information
Format: Hardback
Pages: 216 pages
Publisher: Stylus Publishing
Publication Date: 30/06/2019
ISBN: 9781620360002
Other Formats
Paperback / softback from £35.95
Also by Scott D. Carpenter