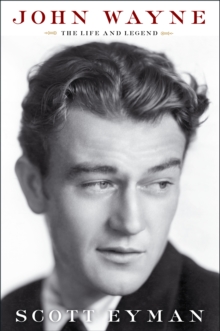 John Wayne: The Life and Legend
Hardback
Description
John Wayne died more than thirty years ago, but he remains one of the five favourite movie stars of contemporary audiences.
Yet, there has never been a comprehensive biography worthy of the man as well as the star.
Until now. The beloved Hollywood icon comes fully to life in this complex portrait by a master biographer.
Exploring Wayne's early life with a difficult mother and a feckless father, Eyman makes startling connections to his later days as an anti-Communist conservative, his stormy marriages and his notorious-and surprisingly long-lived-extra-marital affair with Marlene Dietrich.
In addition to his interviews with those who knew Wayne best-many of whom had never spoken on the record before-Eyman draws on the actor's own business records to weave a rich tapestry of American cultural history: the story of a man who went from college football to romantic lead on the silver screen, and who ultimately became the dominant-and often domineering-symbol of his country at mid-century, the quintessential American male against which all other screen heroes are compared.
Information
Format: Hardback
Pages: 672 pages, rough front, b&w 24-pp insert of 57 photos
Publisher: Simon & Schuster
Publication Date: 01/04/2014
Category: Individual actors & performers
ISBN: 9781439199589
Other Formats
Paperback from £10.65
EPUB from £6.99
Free Home Delivery
on all orders
Pick up orders
from local bookshops
Reviews
Showing 1 - 2 of 2 reviews.
Review by knahs
16/06/2015
Detailed and well researched bio of John Wayne that delves into areas that other books have not such as his early childhood and relationship with his mother. Eyman has done a lot of research and talked with a great many people associated with Wayne, and actually met Wayne. I found the book highly readable because Eyman did not bore us with detailed summaries of the films. In fact, many he mentions by title only. I wish he would have at least mentioned a bit more on Wayne's rare t.v. appearances such as the I Love Lucy where Lucy steals his footprints in front of Grauman's Chinese Theatre or a wonderful skit he did on a Jimmy Durante show. I have to disagree with Eyman's opinion on Rio Bravo - if I could only take one Wayne film to a desert island - that is the one I would take. Granted Wayne's performance is not as powerful as in The Searchers or Red River or as touching as in She Wore a Yellow Ribbon but Rio Bravo is pure fun! Additionally, I felt too much of the book was focused on Wayne's politics. The author gave us hints of what happened to many of the people in Wayne's life throughout the text but I would have liked a summary at the end as well as information on what his children and grandchildren are doing as well as the last lady of his life, Pat Stacy. Without this followup, I cannot give the book 5 stars as I feel it is incomplete. There was also no filmography and Wayne's is very impressive
Review by zzshupinga
16/06/2015
ARC provided by NetGalleyJohn Wayne. The "Duke." A legend. Even more than thirty years after he died, he still remains one of the five favorite movie stars of all time. But does anyone really know the story of The "Duke?" Now they do. Drawing on interviews conducted before John Wayne's death and more than 100 other interviews with the actor's family, co-stars, and associates, Scott Eyman writes a 500 plus page tome to illuminate the Duke's life.Scott Eyman has written the most thorough biography possibly on Wayne. Checking in at over 500 plus pages, I'm not sure that he left any part of Wayne's life uncovered. And while I'm a fan of Wayne's films, it's much more difficult to read about the man himself in such depth. Eyman tells us about Wayne's early childhood and how his parents may have played a part in his strong politically conservative nature to how before his big break Wayne would work on as many movie sets as possible to his later life after the stars had faded. It is primarily in discussing his movie roles that Eyman is the strongest, describing how Wayne was a perfectionist and a master at knowing what was needed to make the audience believe what was on the camera. He details how Wayne got his start in small roles, what led to his big break, and what he was like during his later roles. Where Eyman falters though is when he veers away from discussing Wayne's movie life, as he has a habit of romanticizing or whitewashing what happened, such as Wayne's avoidance of serving in World War II. Or his three disastrous marriages and love life. It's clear that Eyman is a huge fan of Wayne and wants the world to remember him fondly. But perhaps it would have been better if the truth were a bit more evident.If you're a fan of Wayne, Westerns, or movie history then this is the book for you and you'll love it. If you want to know about Wayne, but not so much in depth, then this is still a good book, just skip around a few chapters. Overall though I give the book 3 out of 5 stars.