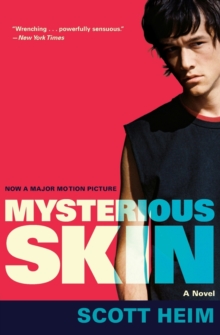 Mysterious Skin
Paperback
Description
At the age of eight Brian Lackey is found bleeding under the crawl space of his house, having endured something so traumatic that he cannot remember an entire five-hour period of time.
During the following years he slowly recalls details from that night, but these fragments are not enough to explain what happened to him, and he begins to believe that he may have been the victim of an alien encounter.
Neil McCormick is fully aware of the events from that summer of 1981.
Wise beyond his years, curious about his developing sexuality, Neil found what he perceived to be love and guidance from his baseball coach.
Now, ten years later, he is a teenage hustler, a terrorist of sorts, unaware of the dangerous path his life is taking.
His recklessness is governed by idealized memories of his coach, memories that unexpectedly change when Brian comes to Neil for help and, ultimately, the truth.
Information
Format: Paperback
Pages: 304 pages
Publisher: HarperCollins Publishers Inc
Publication Date: 01/05/2005
ISBN: 9780060841690
Free Home Delivery
on all orders
Pick up orders
from local bookshops
Reviews
Showing 1 - 5 of 10 reviews.
Previous | Next
Review by Bembo
16/06/2015
Initially I found it confusing with the different characters relating the story (I know, I should read the chapter headings more carefully), but the developing tale gradually became interesting. As events began to come together, the characters really came to life, and the story became enthralling, and the finale very moving.
Review by NativeRoses
16/06/2015
Almost too painful to read. Extraordinarily honest.
Review by lycomayflower
16/06/2015
Very well written with compelling characters and a fantastic sense of place. The end feels both perfect and not enough--after all that these characters have gone through, I kind of want to see how they go on, not just get a striking image of partial resolution.
Review by likelectriceels
16/06/2015
I thought this book was extremely interesting. I especially liked the juxtaposition of the two main characters. Despite the fact that they went through the same ordeal as children, one chose to accept it and one chose to suppress it. The story of their meeting and coping together with the problem proved to be a very good read!
Review by Dog_Ogler
16/06/2015
I saw the movie first and it is also excellent. Explores, with great sensitivity and intelligence, the different survival journeys of two 10-year-old boys molested by the same baseball coach.