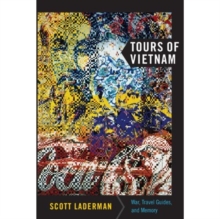 Tours of Vietnam : War, Travel Guides, and Memory
Hardback
Description
In Tours of Vietnam, Scott Laderman demonstrates how tourist literature has shaped Americans' understanding of Vietnam and projections of United States power since the mid-twentieth century.
Laderman analyzes portrayals of Vietnam's land, history, culture, economy, and people in travel narratives, U.S. military guides, and tourist guidebooks, pamphlets, and brochures.
Whether implying that Vietnamese women were in need of saving by "manly" American military power or celebrating the neoliberal reforms Vietnam implemented in the 1980s, ostensibly neutral guides have repeatedly represented events, particularly those related to the Vietnam War, in ways that favor the global ambitions of the United States.Tracing a history of ideological assertions embedded in travel discourse, Laderman analyzes the use of tourism in the Republic of Vietnam as a form of Cold War cultural diplomacy by a fledgling state that, according to one pamphlet published by the Vietnamese tourism authorities, was joining the "family of free nations." He chronicles the evolution of the Defense Department pocket guides to Vietnam, the first of which, published in 1963, promoted military service in Southeast Asia by touting the exciting opportunities offered by Vietnam to sightsee, swim, hunt, and water-ski.
Laderman points out that, despite historians' ongoing and well-documented uncertainty about the facts of the 1968 "Hue Massacre" during the National Liberation Front's occupation of the former imperial capital, the incident often appears in English-language guidebooks as a settled narrative of revolutionary Vietnamese atrocity. And turning to the War Remnants Museum in Ho Chi Minh City, he notes that, while most contemporary accounts concede that the United States perpetrated gruesome acts of violence in Vietnam, many tourists and travel writers still dismiss the museum's display of that record as little more than "propaganda."
Information
Format: Hardback
Pages: 312 pages
Publisher: Duke University Press
Publication Date: 16/01/2009
Category: Asian history
ISBN: 9780822343967
Other Formats
Paperback / softback from £17.55
Also in the American Encounters/Global Interactions series | View all