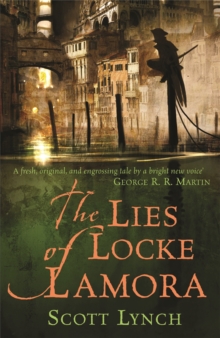 The Lies of Locke Lamora : The Gentleman Bastard Sequence, Book One
Paperback
Description
They say that the Thorn of Camorr can beat anyone in a fight.
They say he steals from the rich and gives to the poor.
They say he's part man, part myth, and mostly street-corner rumor. And they are wrong on every count. Only averagely tall, slender, and god-awful with a sword, Locke Lamora is the fabled Thorn, and the greatest weapons at his disposal are his wit and cunning.
He steals from the rich - they're the only ones worth stealing from - but the poor can go steal for themselves.
What Locke cons, wheedles and tricks into his possession is strictly for him and his band of fellow con-artists and thieves: the Gentleman Bastards.
Together their domain is the city of Camorr. Built of Elderglass by a race no-one remembers, it's a city of shifting revels, filthy canals, baroque palaces and crowded cemeteries.
Home to Dons, merchants, soldiers, beggars, cripples, and feral children. And to Capa Barsavi, the criminal mastermind who runs the city.But there are whispers of a challenge to the Capa's power.
A challenge from a man no one has ever seen, a man no blade can touch.
The Grey King is coming.A man would be well advised not to be caught between Capa Barsavi and The Grey King.
Even such a master of the sword as the Thorn of Camorr.
As for Locke Lamora ...
Information
Format: Paperback
Pages: 544 pages
Publisher: Orion Publishing Co
Publication Date: 01/02/2007
Category: Fantasy
ISBN: 9780575079755
Free Home Delivery
on all orders
Pick up orders
from local bookshops
Reviews
Showing 1 - 5 of 15 reviews.
Previous | Next
Review by TerrapinJetta
16/06/2015
I'm pretty sure this book is a classic fantasy book-to-be. Absolutely superb writing. The only reservation I have is the forthcoming romance which seems to be that of the Twue Wuv with sassy redhead variety. Scott Lynch could surprise me though!
Review by xicanti
16/06/2015
A small group of con men become entangled in another schemer's plans.I enjoyed this book so much that I'm not too sure where I want to begin, so let's start with a simple declaration: this was bloody f*****g <i>brilliant</i>. (Yes, the profanity is necessary… and oddly appropriate, here). It's easily one of the best books I read in 2007.Before the story even got going, the writing drew me right in. Lynch's narrative weaves in and out, zipping back and forth through time in the most beguiling ways. I found it absolutely fascinating. Lynch has <i>style</i>, and he uses it to great effect. There's some fantastic sarcasm and more than a little humour to balance out all the dark, gruesome stuff. I loved the book from page one; I think I would've been thrilled with it even had nothing much happened.But <i>damn</i>, does stuff happen! The story races along, with periodic pit stops for some backstory and world building. The cons are gorgeously plotted, and Lynch's pacing is such that each piece of the puzzle falls into place with a satisfying click. The dialogue works to move the story along and develop these characters to the utmost. The complex, carefully presented world provides the perfect setting for this intricate, clever, extremely enjoyable tale.The book does have a few faults. There were a couple of places where I wished things were fleshed out a bit more, and I was quite disappointed with how one particular character ended up. (Read some of the other reviews for specifics; I don't want to give spoilers here). Overall, though, it was bloody amazing. I mean, the damned thing made me laugh, cry, gasp, whisper profanities to myself, bounce up and down in my seat, grin with delight, scowl and growl... the works. You need to read it. <i>Now</i>.
Review by veevoxvoom
16/06/2015
Summary: Locke Lamora is a scruffy orphan with a brain for mischief and a gift for lying. Along with his gang, the Gentleman Bastards, he devises a daring plot to steal twenty five thousand crowns from one of the nobles of Camorr. However, another plot is snaking through the city, a plot that may take the entire criminal underworld by storm.Review: I'd heard a lot of good reviews for this book but I wasn't sure I would enjoy it as much as everyone seemed to think I would. The thieves and rogues genre isn't one that I normally enjoy. I tend to find overly clever characters insufferable in their arrogance. Yet after finishing the first chapter of The Lies of Locke Lamora, I changed my mind. I do enjoy this because Scott Lynch makes it impossible not to. The man is a golden storyteller. He could probably write a story about accountants and it would still be rollicking, witty, and creative.Thankfully, this is not a story about accountants. It's a story of cunning, brotherhood, revenge, and growing up. It's dark when it needs to be dark — and it has a high body count, higher than I expected — and it's funny when it needs to be funny. Lynch writes with a grim, tongue-in-cheek humour that perfectly suits the kind of people Locke hangs out with.The characters were all compelling, each and every one of them. The interludes to the past were integrated smoothly with the present-day plot, allowing you to get a glimpse of who Locke was without disturbing the adventure of who Locke is. The dashes of creativity and culture fleshed out the world of Camorr. The little mysteries — the mention of Sabetha, Locke's real name — were left to whet your appetite for the books to follow.This is a real swashbuckler, the kind I haven't read in a long time. It breathes life into the tired thieves and rogues genre, and if this is the future I'm glad to be clinging on to the ship.Conclusion: Top-notch fun.
Review by rbe500
16/06/2015
So what is it that makes us pick up a book from a shelf and decide that it would be a good read? I've no idea. I read the blurb for Scott Lynch's The Lies of Locke Lamora, and thought "ah, yet another generic fantasy novel, how boring." Book I of the Gentleman Bastard Sequence, I hate books in a series. I don't like the idea of making an emotional connection to a set of characters just to line the author's pockets with gold pieces. The cover looked interesting, very dark, gothic almost, complex, sort of like a twisted Venice.Head: Shouldn't judge a book by its cover.Heart: Buy this book.Heart won of course, and I'm so glad it did.Set in the world of the shattered Therin Throne Empire and its descendant states, the tale follows the antics of young professional thief and con artist Locke Lamora and his comrades. It's a gripping read with a wonderfully detailed world and characters. Lynch's writing style is very easy on the eye but extremely immersive. The last time I felt so engaged with a world setting was China Miéville's excellent Perdido Street Station. Each time I had to put the book down, it was a real effort to tear myself away. The complexity of the scams pulled by the Lamora and his gang keep you engrossed, and there is a perfect sense of comic timing. The language is a bit pithy, and there is a degree of violence and gore, but nothing gratuitous. I cannot recommend this book highly enough - suitable for adults and older children.Going off piste a bit, it seems that Lynch was discovered back in 2005 when an editor at UK Orion/Gollancz read some early pages of his novel on Lynch's blog and promptly signed him up to a multi-book contract. The film rights to LLL were sold to Hollywood producers in 2006. The Gentleman Bastards is a sequence of seven books following the life of Lamora over 15-20 years, and Lynch has said that there will be a sequel series set some twenty years on, with new characters, that will also be seven books long. There's forward thinking for you! In August 2006, Subterranean Press confirmed that they would be publishing three novellas by Scott Lynch set in the same world. The first two to be entitled The Mad Baron's Mechanical Attic and The Choir of Knives. Gollancz will be releasing them in an omnibus edition entitled The Bastards and the Knives in May 2009.
Review by DRFP
16/06/2015
"The Lies of Locke Lamora" is a decent enough piece of fantasy writing. Lets give credit to Lynch for attempting something new in the fantasy genre by having his main characters be a group of con-artists, as opposed to the usual knights and wizards.So that's a nice idea... However I don't think Lynch quite manages to convince us the con would really work. I felt the novel worked better when the focus was away from the con side of things. Thankfully that's most of the book.Lynch writes well and this was entertaining but there were some other minor problems. Firstly, the swearing of certain characters seemed a little childish to be honest; almost an attempt to reassure us that this was adult fantasy writing and not for kids! The writing of the Falconer and his bird was a little unsubtle too.Yet I'm a sucker for Venetian settings and so this story had me interested from the start. Lynch doesn't spend too much time on world building, but there are enough details written to make it appealing. Lamora himself I actually found a decent, agreeable character. Certainly he's arrogant but he comes with a vulnerable side too and I found that made him both interesting and sympathetic.So... there's good and bad here. But, at the end of the day, I still went out and bought the sequel ("Red Seas Under Red Skies"). So it must have more good than bad.
Also in the Gentleman Bastard series | View all