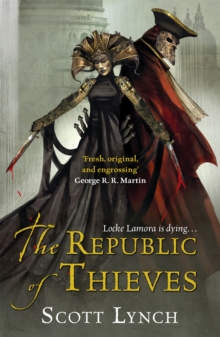 The Republic of Thieves : The Gentleman Bastard Sequence, Book Three
Paperback
Description
After their adventures on the high seas, Locke and Jean are brought back to earth with a thump.
Jean is mourning the loss of his lover and Locke must live with the fallout of crossing the all-powerful magical assassins, the Bonds Magi.It is a fallout that will pit both men against Locke's own long-lost love.
Sabetha is Locke's childhood sweetheart, the love of Locke's life and now it is time for them to meet again.
Employed on different sides of a vicious dispute between factions of the Bonds, Sabetha has just one goal - to destroy Locke for ever.The Gentleman Bastard sequence has become a literary sensation in fantasy circles and now, with the third book, Scott Lynch is set to seal that success.
Information
Format: Paperback
Pages: 736 pages, 1 Maps
Publisher: Orion Publishing Co
Publication Date: 29/07/2014
Category: Fantasy
ISBN: 9780575084469
Free Home Delivery
on all orders
Pick up orders
from local bookshops
Reviews
Showing 1 - 2 of 2 reviews.
Review by AHS-Wolfy
16/06/2015
This third story in the lives of Locke and Jean picks up almost directly after the end of the 2nd book. <spoiler>Having exhausted all avenues in search of a cure for Locke's poisoning they're almost at a point in being reconciled to Locke's demise when an offer of aid arrives from an unexpected and mostly unwelcome source in the form of Patience, one of the four Archedama's that lead the Bondsmagi.</spoiler> In exchange, she wants them to rig an election in Karthain. It's not until Locke and Jean reluctantly agree that they find out who's helping the opposition. None other than the only female member of the Gentleman Bastards and love of Locke's life, Sabetha Belacoros. As with the previous books in the series there is also a look back into earlier times and we get to see Locke and Sabetha's first encounters along with their further teachings of Father Chains which leads up to the first job for the gang known as the Gentleman Bastards. After spending a summer together in their den the five fledgeling members of the gang have become restless and irritable as well as a little set in their ways so Chains thinks it's time to shake things up a little. He packs them all off to Espara to an old acquaintance who runs a theatre company who is currently somewhat down on his luck. The five of them are to become members of Jasmer Moncraine's troupe and help restore his fortunes. When they arrive at their destination they find events have conspired to disabuse any thoughts of an easy year on the stage learning how to act. Moncraine has landed himself in prison after punching a nobleman and will reside there for a year before being released minus a hand and the troupe of actors has mostly disbanded. Can the gang concoct a scheme to release Moncraine and put on the play with only themselves to rely on in an unfamiliar environment? Will it draw them together or finally split the group asunder?Despite the well-publicised problems of the author in producing this work, there is no reduction in the quality of the writing or story on show here. Scott Lynch maintains the balance of the darker elements with the lighter, more humorous interplay of his characters. And oh, how I love these characters. The dynamic between Locke and Jean is terrific and we now, finally, get to meet the long awaited Sabetha in both past and current incarnations. I do, however, think that the <i>con</i> element of the main story doesn't quite stack up against previous encounters and the reader is less invested in the outcome. Whether this is because <spoiler>it is used primarily as a backdrop for the reunion of Locke and Sabetha or that there is no real threat of physical harm befalling the main protagonists</spoiler> or perhaps a combination of both I'm not quite sure. Weighing in at over 700 pages this is not a quick, action-packed story but those who have followed the series so far will not be disappointed at spending so much time with the characters and the world around them. The series is planned for 7 books in total and there is some groundwork laid throughout this book and in particular with the epilogue as well as also providing a potential revelation about Locke's origin. Thankfully those of us that delight in these books won't have quite so long to wait for the next one as it may even see release this side of Christmas (though I won't hold my breath).
Review by reading_fox
16/06/2015
Fun. And finally we get the backstory filled in. But I'm still really not happy with the author's style of frequent interludes to do so.Locke and Jean stumbled away from their last grand Heist with barely a few thousand Solari in their pockets, Jean cured, but Locke still dying from latent poison. Despite his best efforts to grit his way through it, he was properly dying. However that did give his favourite friends the Bondmagi a chance to deal with him - the offer of a cure was far too much for Jean to resist, and the only price a chance to play politics in the Bondsmagi's city. What fun. Until his patron revelaed that her opposition had also brought in an outside consultant, one who intimately knew how best to foil the somewhat extravagant gestures of a fit Locke and Jean, yes it was there old playmate Sabetha. Nearly all of the plot revolves around Locke and Sabetha reminiscing or re-acquainting themselves with each other, interrupted with interludes from the missing backstory. There are a few instances of the three of them having fun with the political process but it is mostly all for show. None of them are that concerned with making a profit, subdued as they are by the Bondsmagi. It's a new city with it's own strangeness and this allows plenty of room for new experiences. The reminiscences also feature a new city with a somewhat more drunken reprise of Calo and Galdo enacting their first group scam, learning to be Thespians. There is a minor plot hole here in that from RedSkies the implication was that Locke and Sabetha featured in a whole series of plays whereas it's very clear that they only had the one performance together. I wasn't totally convinced by the Bondsmagi's motivation, nor the squabble that underlies the whole book, but I will allow Lynch the credit for devising a vaguely plausible way to get them out of the rest of the series of books he's obviously planning to write. (Hopefully somewhat quicker than this volume!). TBH I feel he has mostly already plumbed the depths that Locke can provide and would be better off suited turning his hand to new characters, leaving Locke Sabetha and Jean to get one with their avaricious future. But these are such fun books that I'm sure I'll read them anyway.
Also in the Gentleman Bastard series | View all