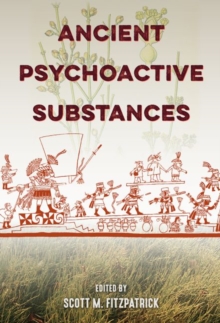 Ancient Psychoactive Substances
Hardback
Description
Tracing evidence of mind-altering substances across a diverse range of ancient cultures, this collection explores how and why past civilizations harvested, manufactured, and consumed drugs.
Case studies examine the use of stimulants, narcotics, and depressants by hunter-gatherers who roamed Africa and Eurasia, prehistoric communities in North and South America, and Maya kings and queens. Offering perspectives from many different fields of study, contributors illustrate the wide variety of sources and techniques that can provide information about materials that are often invisible to archaeologists.
They use advanced biomolecular procedures to identity alkaloids and resins on cups, pipes, and other artifacts.
They interpret paintings on vases and discuss excavations of breweries and similar sites.
Uncovering signs of drugs including ayahuasca, peyote, ephedra, cannabis, tobacco, yaupon, vilca, and maize and molle beer, they explain how psychoactive substances were integral to interpersonal relationships, religious practices, and social cohesion in antiquity.
Information
Format: Hardback
Pages: 288 pages
Publisher: University Press of Florida
Publication Date: 30/11/2017
Category: Social & cultural anthropology
ISBN: 9780813056708
Free Home Delivery
on all orders
Pick up orders
from local bookshops