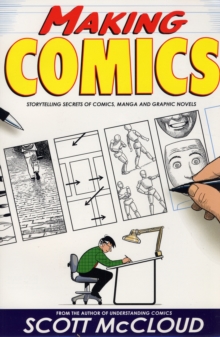 Making Comics : Storytelling Secrets of Comics, Manga and Graphic Novels
Paperback
Description
"Magnificent! The best how-to manual ever published." - Kevin Kelly, Cool ToolsScott McCloud tore down the wall between high and low culture in 1993 with Understanding Comics, a massive comic book about comics, linking the medium to such diverse fields as media theory, movie criticism, and web design.
In Reinventing Comics, McCloud took this to the next level, charting twelve different revolutions in how comics are generated, read, and perceived today.
Now, in Making Comics, McCloud focuses his analysis on the art form itself, exploring the creation of comics, from the broadest principles to the sharpest details (like how to accentuate a character's facial muscles in order to form the emotion of disgust rather than the emotion of surprise.) And he does all of it in his inimitable voice and through his cartoon stand-in narrator, mixing dry humor and legitimate instruction.
McCloud shows his reader how to master the human condition through word and image in a brilliantly minimalistic way.
Both comic book devotees and the uninitiated will marvel at this journey into a once-underappreciated art form.
Information
Format: Paperback
Pages: 272 pages
Publisher: HarperCollins Publishers Inc
Publication Date: 05/09/2006
Category: Art techniques & principles
ISBN: 9780060780944
Free Home Delivery
on all orders
Pick up orders
from local bookshops
Reviews
Showing 1 - 5 of 8 reviews.
Previous | Next
Review by neontapir
16/06/2015
If you *ever* had interest in drawing a comic, this book is a must!
Review by Terpsichoreus
16/06/2015
I really enjoy Scott McCloud. He is insightful and funny and his analytic method is always useful in dissection of concept. I find that the conscientious author tends to be the superior author, and for this reason, McCLoud is indispensable.Another thing that is refreshing about McCloud is that he takes the medium very seriously, and reminds us, as creators, that we have a responsibility to the art to do everything we can with it, and not simply accept the given standards.In a lot of ways, this book feels like an update of Understanding Comics, but with a greater mindfulness of the creator, and less for the pure history and development of the art. 'Making Comics' is an inspirational work which avoids treading the ground of other 'how to's, instead focusing on asking 'how might you'?
Review by questbird
16/06/2015
As one of the few readers who actually enjoyed Scott McCloud's 'Reinventing Comics' more than 'Understanding Comics', I was excited about this book. It does not disappoint. McCloud describes all sorts of techniques for telling a story in comic form, in an engaging and tight manner. The notes sections for each chapter are just as interesting as the chapters (though not in comic format). A tip of the hat to 'Reinventing Comics' is found in chapter '5 and a half', which is located online. I find McCloud's ideas about online comics very interesting.*A couple of parts of the book didn't work so well for me. In the tools and techniques chapter I would like to have seen a bit more about process, scriptwriting, and comics industry roles. I also found the classification of the the various comics artists in the comics culture section a bit unrealistic and unhelpful.Overall though, the book is full of great tips about how to improve the presentation of your story in comics format. A great read.* Notably McCloud's earlier Flash-based effort at producing an online comic has aged far more than the Zot! online, which uses only graphical elements in a simple downward-scrolling web page. Online comics artists, beware of proprietary file formats for your creations!
Review by Andreawallin
16/06/2015
Reaction: Wow! A similar reading experience to Understanding Comics, I couldn't put this informational book down! The entire text is written in a cartoon format, helping the reader immerse herself into the comic book world, and fully understand McCloud's teaching points. Any teen or adult would find this text fascinating and very useful, especially if pursuing an art career.
Review by Warnerp
16/06/2015
Won the 2007 Quill Award and the 2007 ALA Great Graphic Novels for Teens Award. Brilliant blend of written text and visuals. Each chapter begins with about a page of written text info to set it up, and ends with written text notes and exercises for the reader, but in between is the graphic novel format to explain all the details of the comic writing process.