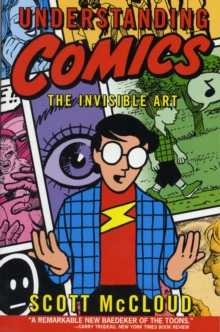 Understanding Comics
Paperback
Description
The bestselling international classic on storytelling and visual communication"You must read this book." - Neil GaimanPraised throughout the cartoon industry by such luminaries as Art Spiegelman, Matt Groening, and Will Eisner, Scott McCloud's Understanding Comics is a seminal examination of comics art: its rich history, surprising technical components, and major cultural significance.
Explore the secret world between the panels, through the lines, and within the hidden symbols of a powerful but misunderstood art form.
Free Home Delivery
on all orders
Pick up orders
from local bookshops
Reviews
Showing 1 - 5 of 29 reviews.
Previous | Next
Review by -Eva-
16/06/2015
Although I don't agree 100% with McCloud's ideas, this is still an unsurpassed introduction to comic style and narration, its history and its future. Finally, a work which takes comics seriously! Anybody interested in the artform should pick this up.
Review by EvilJohn
16/06/2015
A very cool look at the art form of comics.
Review by atia
16/06/2015
If I could give this book more than five stars, I would. This was an excellent read - fascinating, enlightening, thought-provoking and, above all, fun. Scott McCloud covers the definition, history and attributes of comics, completely in a comic book format, and the effect is impressive. Wow.
Review by dr_zirk
16/06/2015
While I don't necessarily agree with all of his assertions, it's impossible to deny that Scott McCloud's <i>Understanding Comics</i> is an important milestone in the interpretation of comic art. Particularly interesting are his comments are the differences between the American, European, and Japanese traditions - there are some genuine insights in this area, and McCloud's ideas have definitely increased my own appreciation for the regional strains of comic art that have developed in different parts of the world. This book is particularly recommended for comic fans that appreciate the content but are curious about the technique. McCloud's subtitle is "The Invisible Art" , and it's very apt - he succeeds brilliantly in unveiling what is right in front of your eyes, even if you have never understood the artistic tactics at work on the printed page. For helping the reader to achieve that significant understanding, this book is a very worthwhile read.
Review by mentatjack
16/06/2015
This book is amazing. Every panel of every page is jam-packed with information. I'd recomend this to anyone attempting to tell a story in any medium.