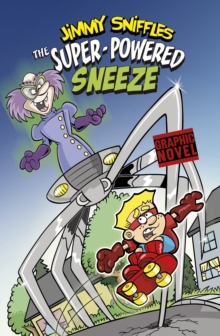 The Super-Powered Sneeze
Paperback / softback
Description
Jimmy Sniffles' super powers lie in his nose. So what happens when his spectacular sniffs are wiped out by cold medicine?
Nothing, and that's the problem. It sure would be disastrous if a super villain say, Dr Von Snotenstein took advantage of Jimmy's weakness and escaped from the dream dimension.
It would be even worse if the doctor had powerful Snot-Bot machine-terrors to help him conquer the world.
Now that's nothing to sneeze at!
Also in the Jimmy Sniffles series | View all