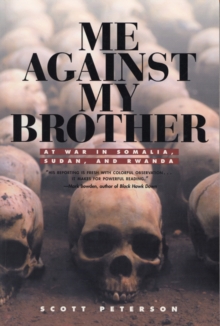 Me Against My Brother : At War in Somalia, Sudan and Rwanda
Paperback
Description
As a foreign correspondent, Scott Peterson witnessed firsthand Somalia's descent into war and its battle against US troops, the spiritual degeneration of Sudan's Holy War, and one of the most horrific events of the last half century: the genocide in Rwanda. In Me Against My Brother, he brings these events together for the first time to record a collapse that has had an impact far beyond African borders.In Somalia, Peterson tells of harrowing experiences of clan conflict, guns and starvation. He met with warlords, observed death intimately and nearly lost his own life to a Somali mob.
From ground level, he documents how the US-UN relief mission devolved into all out war - one that for America has proven to be the most formative post-Cold War debacle. In Sudan, he journeys where few correspondents have ever been, on both sides of that religious front line, to find that outside "relief" has only prolonged war. In Rwanda, his first-person experience of the genocide and well-documented analysis provide rare insight into this human tragedy.Filled with the dust, sweat and powerful detail of real-life, Me Against My Brother graphically illustrates how preventive action and a better understanding of Africa - especially by the US - could have averted much suffering. Also includes a 16-page color insert.
Information
Format: Paperback
Pages: 400 pages, 16 halftones
Publisher: Taylor & Francis Ltd
Publication Date: 13/09/2001
Category: African history
ISBN: 9780415930635
Other Formats
PDF from £17.99
EPUB from £23.39
Free Home Delivery
on all orders
Pick up orders
from local bookshops
Reviews
Showing 1 - 2 of 2 reviews.
British journalist Scott Peterson was an old hand at reporting in Africa by the time the 'New World Order' was tested by Somalia in the early '90s. For this reason, his shock and horror at the events he describes in this book carries weight. Covering Somalia, Sudan, and Rwanda, different approaches to solving the same problems of civil war and hunger are effectively juxtaposed - ultimately providing few concrete answers to the 'peacekeeping problem', but being highly instructive all the same.For those just home from seeing the new movie _Black Hawk Down_ (Americans especially), I think _Me Against My Brother_ should be required reading. Peterson spends half of his book on Somalia, and provides clear and concise background information on the origins of the unrest there. His analysis is evenhanded, spreading plenty of blame around: to the UN, the U.S. Armed Forces, the Somali warlords, and the Somali people themselves. I felt the book portrayed a bad situation steadily made worse by all parties involved, rightly leaving them smarting from their involvement.The next quarter of the book examines the Sudan. A timely topic in this time of heightened sensitivity to Muslim/Christian conflict, Peterson shows how damaging such conflicts can be. Again he provides good, brief background material and plenty of firsthand accounts from southern Sudan; the front lines. The section on the Sudan underscored a civil war where, unlike Somalia, humanitarian aid was distributed without accompanying military intervention. The result is a graphic illustration of how such well meaning aid organizations can be manipulated, prolonging suffering rather than quelling it.A third contrast is provided by the last section of the book - Rwanda. There, the conflict was so terrifying that not only was there no military intervention, but no humanitarian effort either. Rwanda was so atrocious, so dangerous, that Peterson (who had been-there-done-that as far as African wars are concerned) was almost too overwhelmed with fear to go there. No aid, few pictures, nearly a million dead. Essentially an inferno of violence that burned until there no no fuel of Tutsi and moderate Hutu bodies left to sustain it.I consider myself fairly educated and aware. Peterson jolted me awake. His eyewitness accounts are riveting, his analyses fairly impartial. In this book he shows a conflict where we tried to intervene with force, one where the intervention was in the form of aid, and one where no one lifted a finger. In all three cases, the results were varying degrees of the same hunger, anarchy, and death. Therefore, Peterson gives no prescription for curing the ills of Africa, but does a fine job of noting the symptoms of the illness.I highly recommend this book. I learned from it immensely, and I'm sure you will too.
Review by LibStre
16/06/2015
Scott Peterson's Me Against My Brother "is not a pretty book. It doesn't describe Africa's stunning sunsets and wild animals, nor its exceptional beauty. And it does not really have a happy ending. But this book does aim to illuminate human tragedy in a way that shows how such tragedies may be easier to avoid in Africa and beyond in the future" (pg. xiv). <br/><br/>Peterson shared that "for everyone who has been to Somalia and Rwanda during times of conflict, the only similarity seemed to be that their violence occurred on the same continent. Otherwise, there are few parallels: in Somalia there was anarchy, while in Rwanda tight political control was inescapable; in Somalia, as we have seen, the UN created its own war and lost, saving lives could often have been achieved by simply being present" (pg. 293). The author supported this statement quite well in his book; but I found that the latter part did not set completely with me. This was because France's continual support of Rwanda (due to its historical alliance with the regime) meant that unless the UN punished the said European country, the RPF militia would continue to receive its foreign aid. It was quoted from a Tutsi woman in Rwanda: "You should leave Africans in peace; its [sic] better to have a good war and people break down, than to have them artificially maintained so they can come back and fight" (pg. 236). <br/><br/>It seemed that foreign intervention consistently exacerbated the battles in Somalia, Sudan and Rwanda. Foreign aid typically supported, and was used as a weapon of, the warlords, militias, and governments. Peterson taught how relief packages were abusively mislabeled (ie: "Upon arrival in Paris, Rwanda's First Lady received a gift of $40,000, which had been earmarked for 'urgent assistance' for Rwandan refugees, from the French Ministry of Cooperation") (pg. 281). <br/><br/>In Somalia, the city of Mogadishu was split north and south by an area known as "The Green Line" (p. 20) and was controlled by "General Mohamed Farah Aidid. His unofficial financier was Osman Hassan Ali ("Ato"). , a man who bonused CIA contacts and served as Somali representative for a well-known United States oil company. Foreign interests coupled with desires to alleviate the starving situation of Somali's while hoping to topple Warlord Aidid, caused the opposite effect; Somalis did not want foreign interference. Aidid won over the people as he killed foreign soldiers; and, upon doing so, foreign governments were neither unable to marginalize nor disarm any of the warlords, as needed by the Somalis. <br/><br/>When Part I (Somalia) ended, I deeply inhaled, following it with a long, slow exhale and simultaneously saying, "Wow!" This part could have been its own book; it was detailed with a well laid out analysis. Part one's finish compelled me to immediately delve into part two, "Sudan: Endless Crusade."<br/><br/>Scott Peterson labeled Sudan's war as ethnic and religious. The President of Sudan was Lt. General Omar Hassan el-Bashir, and the Popular Defense Forces was this country's new Islamic Militia. Its uniforms were donated by Iran. Peterson explained this and other countries' involvement quite well; but, in this instance, he shared that "Bashir told the nation that Iran's 1979 Islamic Revolution (led by Ayatollah Khomeini) 'carried hope to Muslims and encouraged us to declare (Sudan) an Islamic revolution in Sudan! He also offered to let Sudan serve as a springboard for spreading Islam throughout Europe and Africa" (pg. 184). Muslim leadership began forced recruitment for holy warriors. Bashir pardoned convicts, trained them, and converted them from prisoner to mujahideen. Islam was used to help fight in a war versus the war existing with the goal of spreading this fundamentalist, hard-liner form of the religion. <br/><br/>Peterson found himself adjusting rebel lines on maps based upon periodic battle gains and losses during the war; the occupied areas changed daily…and sometimes on an hourly basis. Peterson also noted that while citizens in foreign countries were led to believe that they were helping African victims of poverty and/or war, they were actually supporting the oppressors and terrorists. "Some SPLA soldiers have uniforms, but everyone else wears a discordant collection of T-shirts and rags that often first arrived in bundles of used clothes collected for the 'poor' of Africa at church bake sales in American and Europe" (pg. 201). In time, SPLA eventually split into factions (that were tribal based), militias became uncontrollable and the original goal of the war was lost.<br/><br/>Rwanda's "Machete War... was the first-ever case in which the UN responded to a crisis by reducing its commitment" (pg. 294). Rwanda was the most overtly "religious country in Africa with more than 80% of the population professed believers in the Roman Catholic faith…" (pg. 249). Peterson provided historical details of the colonization and first established population segmentation Rwanda. Prior to this time, "Hutu and Tutsi spoke the same language, had the same religion, and lived together on the same hills for centuries" (pg. 258) under an apolitical caste system in which Tutsi were cattle owners and Hutu simply had fewer cows (the object that determined one's wealth). <br/><br/>President Juvenal Habyarimana, who was backed by a French regime, was assassinated in 1994 by majority-Hutu extremists. Political parties created under the new president were designed to ensure Hutu supremacy and to drive ethnic cleansing via elimination of the Tutsis. Scott Peterson delved deeply into the role of the Catholic Church and how it repeatedly encouraged war crimes. "The genocide that afflicted Rwanda for three months in 1994 was the bloodiest episode recorded in modern African…" (pg. 252). This was a war in which the victims were being treated as the hunters and the murderers simply re-wrote their own history…one in which their crimes would be completely ignored.<br/><br/>Scott Peterson's purpose in visiting these countries was that he was an "Africa Correspondent." His book made me want to re-watch the film, "Hotel Rwanda;" and, in doing so, its nuances took on so much more meaning. Scott Peterson's role was also shown in the film. I realized how important his presence (over there) was to the unfiltered news getting out of Rwanda (and other countries) so it could be delivered to the rest of the world. I cannot say enough about how well this man took topics that seemed to have infinitely many tentacles and crafted them into such a compelling read. <br/><br/>Me Against My Brother exists as a well-investigated, responsibly written book that gave me a much-improved world view as to the multi-faceted and complicated nature of war. The author gave me cause to read more on this topic , the three countries he featured, and the rest of Africa. He did a phenomenal job and gets a well-deserved five-star rating for this book.<br/>