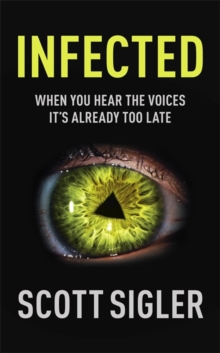 Infected
Paperback
Part of the Infected series
Description
Scott Sigler is the voice in modern horror - and the INFECTED trilogy is a terrifying, menacing series that will leave you sleepless. They dropped from the atmosphere like microscopic snow.
Billions of seeds, smaller than specks of dust, spiraling down from the heavens.
Most didn't survive the journey. But not all. And those that made it...began to grow. Now three people face a race against time. Dew Phillips, an agent with a classified unit of the CIA, and Margaret Montoya, a government biologist, must try to stop a modern plague that drives its victims to insanity, murder and suicide. And Perry Dawsey, a former athlete in a dead-end job, must race to find a cure for the rash that has appeared on his arm. And his back. And his neck. It's growing every day. And then the voices start. Scott Sigler is the voice in modern horror - and the INFECTED trilogy is a terrifying, menacing series that will leave you sleepless.
Information
Format: Paperback
Pages: 464 pages
Publisher: Hodder & Stoughton General Division
Publication Date: 01/07/2008
Category: Horror & ghost stories
ISBN: 9780340963531
Free Home Delivery
on all orders
Pick up orders
from local bookshops
Reviews
Showing 1 - 2 of 2 reviews.
Review by SonicQuack
16/06/2015
Plague, zombies, infection - it's all old hat. What Sigler creates in Infected is an in-your-face no-holds-barred story on one man's infection in minutiae. From a cellular level the infection is explained and it's effects on the host vary throughout the stages of the growth. This level of detail coupled with the almost colloquial narrative provides an easy to read horror thriller, a world apart from Crichton or the usual horror entries. The story, beyond the interesting angle, offers very little content and at times is unnecessarily dumbed down. At times Sigler seems almost cocky during his writing, a style that often seems out of place during the story, although it injects a little light relief from the blood and violence. Overall Infected is a fun and interesting tale and readers will be likely to pick up further Sigler stories.
Review by clfisha
16/06/2015
Starting out life as a hugely popular podcast this is an enjoyable but highly gruesome, fast paced horror tale, one where parasites are turning ordinary Americans into crazed psychopaths. It follows three main protagonists: a tired CIA agent, the obligatory female scientist and a poor loser who suddenly gets a rash.... Sigler sometimes spends too much time explaining the basics and tends to gleefully concentrate on the poor infected chap at the expense of the other characters but its still a err.. fun read.If icky horror is your thing I think you will enjoy it, otherwise avoid.