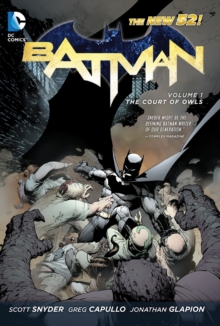 Batman HC Vol 01 The Court Of Owls
Hardback
Description
Following his groundbreaking, critically acclaimed run on DETECTIVE COMICS, writer Scott Snyder (American Vampire) begins a new era of The Dark Knight with artist Greg Capullo (Spawn) and a new beginning for BATMAN!
In this hardcover collecting the first
Information
Format: Hardback
Pages: 176 pages
Publisher: DC Comics
Publication Date: 01/05/2012
Category: Superheroes
ISBN: 9781401235413
Free Home Delivery
on all orders
Pick up orders
from local bookshops
Reviews
Showing 1 - 5 of 15 reviews.
Previous | Next
Review by DanieXJ
16/06/2015
Batman has a new big problem in Gotham. A bunch of Owls, well, technically a bunch of guys and gals in Owl masks. And they not only want to kill Batman, but also don't seem to like Bruce Wayne either.Nightwing, both Robins (Damian and Tim Drake as Red Robin) are in the story too, especially Nightwing, which was nice to see, before the New 52 reboot all the Batmans and Robins had gotten a bit confusing.I was a bit sad that there wasn't more GCPD, but on the whole I liked the TPB, especially the little subplot at the very beginning. Lots of familiar face locked up (for now) in Arkham.
Review by RoeschLeisure
16/06/2015
Scott Snyder and company have put together a pretty good new storyline for DC Comics New 52. In this case, Bruce Wayne is targeted by the Court of Owls - an urban legend from Gotham City's past. Batman finds his way into the underground headquarters of the all-to-real group and fights for his life. More to come in the next volumes as the Dark Knight escapes and the Court unleashes a horde of "undead" assassins on Gotham. This story is a welcome relief from the too large bat-family of late. It is dark and violent as a Batman story should be. Parts are a bit silly but overall this is a good selection.
Review by tapestry100
16/06/2015
So, here's the deal. I'm not as big a DC fan as I am a Marvel fan (in which you should read: I know only the very basics of the DC Universe of characters, and most of that is based around Batman anyway). So, when DC decided to do it's big New 52 initiative, I thought I'd give the titles a try with each of the new #1 issues. Not many of them caught my interest, but I really enjoyed the first issue of the <i>Batman</i> comic, so picked up the first collected edition when it came out. We're introduced to a new villain in this collection, the Court of Owls, and their undying assassins, the Talons. It seems the Court, even though they were thought to be nothing more than an urban legend in Gotham, are in fact real and have been hiding in secret in Gotham, pulling the strings of how the city runs in certain ways for decades, if not longer. The Court captures Batman and after being tortured, he kills their current Talon and escapes, at which point the Court unleashes all of their Talons from the past on Gotham to bring the city down, and Batman needs to call in the rest of the Bat-family to help take the Talons and the Court down.Now, this whole story arc started out very strong for me, and then slowly fizzled out until I could basically care less how the arc ended. The events in <i>The Court of Owls</i>, with its mysteries and new characters, was intriguing and left me wanting more, but then the events of <i>Night of the Owls</i> also left me wanting more, but not in the same way. We jump from Bat-character to character, as each of them takes on a Talon, and what gets me here is that some of the time, the characters don't reflect the hardships that their bodies are being put through by the Talons (how many times can Nightwing be stabbed and have it not affect him in any way? He's not Superman, after all). It was clever how they were able to tie all of these stories together with the events going on in the <i>Batman</i> series proper, but beyond that, it was nothing but fight, fight, fight.And when I picked up <i>The City of Owls</i> and realized that an actual half of this collected edition had already been printed in <i>Night of the Owls</i>, I felt cheated. I felt like I was tricked into buying these issues all over again. I probably wouldn't have minded one issue being reprinted here to carry the story from the one volume to the next, but to have actually half of the volume reprinted? Not cool. The finale of the story arc, to be honest, is unmemorable. In fact, I don't actually remember how the arc ended, nor do I have any interest in going back and rereading it to see how it was resolved for the purpose of writing about it here. If I decide to pick up the next volume, I may go back and see what happened. Maybe.Greg Capullo's art, as usual, is great. He's an amazingly talented artist, and his bits in all three collections are the best. The other artists are OK, but nothing that stuck out in my mind as being fantastic.I'm sure for hardcore fans, this was probably a great new addition to the Batman mythos, and maybe all of the New 52 reboots are great, but for me, they've all really left me feeling a little let down. Perhaps I just need to stick with Marvel and what I know.
Review by scvlad
16/06/2015
Well call me impressed! If this is what 'The New 52' is going to be like I might become a fan. This is a good solid Batman story. Some action, some detecting, narrow escapes, dark artwork and darker moods, this story captures the spirit of Batman very well. The story is well structured and well put together. The basic premise: a new murder in Gotham by someone who appears to be very skilled with knives, and who appears to be connected with a very old Gotham legend about owls. And there's a connection to Bruce Wayne's ancestors and, apparently, someone very close to Bruce and Batman ...
Review by jasonlf
16/06/2015
Having read very few Batman comics--and virtually none in many years--it is hard for me to compare this to what came before. But Scott Snyder's reboot of the Batman series is reasonably suspenseful and effective storytelling, although it is still a comic book with standard comic book art and nothing that is particularly artistically compelling or boundary pushing. But it is a very good rendition of Batman.