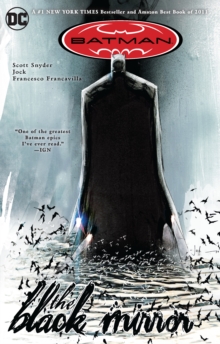 Batman: The Black Mirror TP
Paperback
Description
A New York Times #1 Bestseller and Amazon Best Book of 2011!
In "TheBlack Mirror," a series of brutal murders pushes Batman's detective skills tothe limit and forces him to confront one of Gotham City's oldest evils.
Helplessand trapped in the deadly Mirror House, Batman must fight for his life againstone of Gotham City's oldest and most powerful evils!
Information
Format: Paperback
Pages: 304 pages
Publisher: DC Comics
Publication Date: 05/03/2013
Category: Superheroes
ISBN: 9781401232078
Free Home Delivery
on all orders
Pick up orders
from local bookshops
Reviews
Showing 1 - 4 of 4 reviews.
Review by rivkat
16/06/2015
Batman is Dick, and Gotham is still an evil seeping into everything it touches. A secret auction of atrocities, the latest escape of the Joker, a mysterious banker who's the daughter of an old enemy, and the return of Jim Gordon's estranged and possibly psychopathic son all play roles in this volume. I liked the themes of nightmares and reflections/refractions; Dick is a reflection of Bruce, but the man beneath the mask is different.
Review by LaneLiterati
16/06/2015
A "Dick Grayson as Batman" story, which has been rare for me. When I started the book, I wasn't enjoying the art style at all, but over time, it grew on me. I think it fit well with the themes of darkness and psychosis that was apparent throughout the book.The idea that Gotham has a "darkness" about it isn't a new idea, but Snyder does a great job (as always) communicating that point in both word and art style.Overall, I'd recommend this book as more of an introspective Batman title and not something incredibly action packed, though there were a few scenes that had good fights in them.
Review by JonathanCrites
16/06/2015
Amazing take on Gotham and the Dick Grayson Batman by the star of the new 52, Scott Snyder. Great art, I almost wish Francavilla had done the entire thing...
Review by sixteendays
27/08/2015
It's been a long time since I've read Hush or The Long Halloween, so the following statement might be incredibly present-biased:Scott Snyder writes Batman better than anyone else.I know people have issues with how dark Snyder likes to go, but that's exactly what I love about it. Last I checked, Batman was dark. Gotham is dark. It's supposed to be. If it's light-hearted Batman you're looking for, then I suggest looking up Adam West and Burt Ward. Otherwise, Snyder is definitely the way to go.There are a decent handful of villains that Batman (Dick Grayson) has to chase after over the course of The Black Mirror - even the Joker shows up with a short cameo. It's James Gordon, Jr., however, that steals the show. A psychopathic serial killer to beat all psychopathic serial killers, James Jr. is creepy to the bone. (No pun intended.)I refuse to better-or-worse The Black Mirror with The Court of Owls, but they are both on my top 5 graphic novel shortlist.Scott Snyder, my marriage proposal is still waiting an answer.