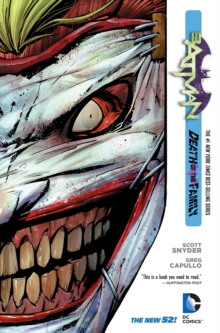 Batman Volume 3: Death of the Family HC (The New 52)
Hardback
Description
After having his face sliced off one year ago, the Joker makes hishorrifying return to Gotham City!
But even for man who's committed a lifetime ofmurder, he's more dangerous than ever before!
How can Batman protect his cityand those he's closest to?
It all leads back to Arkham Asylum... This newhardcover collects the the critically acclaimed tale "Death of the Family" fromthe superstar #1 New York Times best-selling team of writer Scott Snyderand artist Greg Capullo.
Batman Volume 3 will have reprecussions thatwill affect the Batman universe for years to come!Collects Batman #13-17.
Information
Format: Hardback
Pages: 176 pages
Publisher: DC Comics
Publication Date: 01/11/2013
Category: Superheroes
ISBN: 9781401242343
Free Home Delivery
on all orders
Pick up orders
from local bookshops
Reviews
Showing 1 - 4 of 4 reviews.
Review by DanieXJ
16/06/2015
Whoa, followed closely by a Whew…So, the Joker is back in this TPB. But, he's a much angrier and much crazier I guess is the best word, Joker. I used to get the Joker, but Post-Crisis and especially in this New 52 reboot, I'm just going along with the insanity that is the Joker storyline. Apparently, he thinks that the Bat Family has made Batman weak? On the one hand, oy, that means that he might be going after everyone from Red Hood to the newest Robin. On the other hand, we get to see quite a bit of them, and seeing Nightwing and Batgirl (and even Damian) out of their own books is always nice.And, it's not just the Joker and the Bat Family that we get to see in this TPB, but there are also quite a few very familiar villains in there. Riddler, Two-Face, the Penguin and I thought that they were used in a really cool and disturbing way.That was the thought that ran through my head the whole time I was reading this TPB even as I couldn't stop reading. 'This is disturbing'. At alternating times I thought that the Joker was unravelling, or Batman was unravelling. Of course, some of the punch was taken out of the narrative because I'm a bit spoiled about a couple of things that happen in other issues, but, overall the story was amazing, and I wasn't sure what the Joker was going to do next.I was also very happy with the art. Especially the fact that all the Bat Family men and boys, they all looked different. That's always a great thing and something that doesn't happen often enough in comic books.I got this advanced galley through Netgalley on behalf of DC Entertainment.
Review by zzshupinga
16/06/2015
ARC provided by NetGalleyJust over a year ago the Joker had his face sliced off and vanished to lick his wounds, to plot, to do something unknown...but he's left Gotham in peace since then. Until now. He's come back and he's even more dangerous that he was before. He begins reenacting his old crimes, but adds new and dangerous twists to them. And he's coming for the Bat family, to take them down one by one and to destroy everything that Batman and his allies hold dear. And it will all lead back to Arkham Asylum for the battle of ages.It's been a while since I've read the Batman comics, but the description of this one intrigued me and holy crap does Scott Snyder make your head explode with this collection. This is a much, much darker Joker than we're used to (or at least than I'm used to.) He pushes the limits of everything and is that crazed maniac that fears nothing and will do everything to create chaos. Snyder has reimagined one of the most twisted characters in comics land and given him new life. No longer can we predict what he'll do or won't do, everything will keep you on the edge of your seat. And what Batman will do is just as much of a mystery.I love the artwork in this volume. Greg Capullo captures the intensity and the moodiness of the 1990's animated Batman series and feel of David Mazzucchelli's work on Batman. It's beautiful, captivating, and horrifying all in one. I particularly like the expressions on the characters faces. They feel real and you can imagine someone that you know making the same types of faces in these situations.This is a gritty and dark Batman series, but it's a great ride. I can't wait to see what happens next. 5 out of 5 stars.
Review by ElizaJane
16/06/2015
As soon as this book arrived in my mailbox, I started reading it; I was that excited! The book didn't quite live up to my expectations as I thought all my questions would finally be answered and they are still not! However, this still a fantastic continuation of the "Death of the Family" story arc. For those just reading Batman and coming here from Volume 2 this will be a spectacular page-turning read (worthy of 5 stars) and you encounter the Joker at his ultimate insanest. I adore this new Joker; he is our psychopath of evil! If like me you've read other "Death of the Family" volumes then this book fills in some very important sequences and makes sense of where those other storylines were headed. Batman Issue #17 is repeated in different various cuts in several of these "Death of the Family" trade collections, but here, finally, we have the entire issue from start to end and it is one doozy of a way to end the collection. Now only three more books for me to read in this crossover, plus can't wait for Vol. 4! I love The New 52!
Review by Chris_El
16/06/2015
At what point do you finally kill the man who keeps killing people in horrible nasty ways for fun out of pity and mercy for future victims? For Batman and Gotham the answer seems to be never. So the Joker returns and tortures and kills scads of folks and makes the police and Batman look helpless. Batman "wins" in the end and the Joker runs away. Sure to return and kill more folks someday.