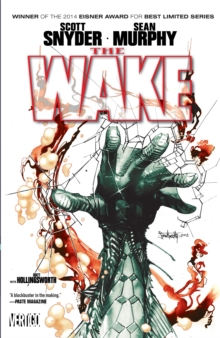 Description
New York Times bestselling author, Scott Snyder (AmericanVampire, Batman, Swamp Thing) and artist Sean Murphy (PunkRock Jesus, Joe The Barbarian), the incredible team behind themini-series American Vampire: Survival of the Fittest, are reuniting forthe powerful mini-series: The Wake.
When Marine Biologist Lee Archer is approached by the Department of HomelandSecurity for help with a new threat, she declines... but quickly realizes theywon't take no for an answer.
Soon, she is plunging to the depths of the ArcticCircle to a secret, underwater oilrig filled with roughnecks and scientists onthe brink of an incredible discovery.
But when things go horribly wrong, thisscientific safe haven will turn into a house of horrors at the bottom of theocean!Collects The Wake #1-10.
Information
Format: Hardback
Pages: 240 pages
Publisher: DC Comics
Publication Date: 11/11/2014
Category: Science fiction
ISBN: 9781401245238
Free Home Delivery
on all orders
Pick up orders
from local bookshops
Reviews
Showing 1 - 2 of 2 reviews.
Review by ElizaJane
16/06/2015
Whoa! Absolutely amazing! Just seeing Scott Snyder's name and reading the premise had me excited to read this and it more than lived up to its expectations. A science fiction story that starts off with a glimpse into the future then the first half takes place during modern day with the second half jumping back to the future and continuing on. At around 260 pages, this is an epic novel with plenty of plot and action. I felt like the characterization of the Lee from the first half was much more indepth than the futuristic Leeward, at least I was more taken with her, but the book just totally blew me away and I kept thinking I could see this as a movie the whole time I was reading. Actually as I first started reading, "The Abyss" came into my mind. The creatures are quite cool and creepy though I found they did look a lot like The Trench from Aquaman: The New 52. Totally awesome reading that had me glued to my seat with spectacular artwork; this is an epic story and a beauty to behold.
Review by wethewatched
27/01/2016
The Wake has an intriguing two-part structure in which we get to see the beginning of the end of the world as we know it in part one, and then jump forward to a fantastical post-apocalyptic future in part two. Such a major shift halfway through keeps the story fresh, but I'm not sure Snyder succeeds in telling a complete story.<br/><br/>At first blush, part one is standard trapped-with-monsters horror fare like Alien or The Thing. However, spectacular artwork by Sean Murphy creates a fresh, absorbing work with truly terrifying creatures. In addition, writer Scott Snyder taps his knowledge about mythology and nature to add a layer of intelligence you don't always get in this type of story. <br/><br/>The creativity of this team really comes out in the second half. The reader is treated to an incredibly imaginative world where the ocean has become dominant on earth. There are huge ships -- both of the water- and air-bound variety -- steampunk pirates and weaponized dolphins and killer whales. This is an incredibly epic world Snyder and Murphy develop for part two... and that's the problem.<br/><br/>While five issues was fine for the essentially one one-set part one, the same length feels way too short for the massively changed Earth these creators show the readers in part two. <br/><br/>There's a lot going on in the second half and Snyder doesn't have enough pages to explore any one aspect with the depth it deserves. There were characters here that seemed interesting, but I never got to know enough about them to really care. Meanwhile, seemingly exciting adventures of our heroes exploring this world are glossed over via montage.<br/><br/>Look, there's a lot of potential in The Wake. It's an intriguing story and the artwork is sometimes mind-blowingly good to look at. But I think it would have been better as a longer ongoing series than what we ended up here. I'm hoping these obviously smart creators get a chance to come back to The Wake one day and give it the epic treatment it deserves.