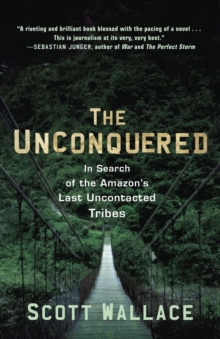 The Unconquered
Paperback
Information
Format: Paperback
Pages: 512 pages
Publisher: Broadway Books (A Division of Bantam Doubleday Del
Publication Date: 24/07/2012
Category: Indigenous peoples
ISBN: 9780307462978
Free Home Delivery
on all orders
Pick up orders
from local bookshops
Reviews
Showing 1 - 4 of 4 reviews.
Review by debnance
16/06/2015
It's all here in this book. Anacondas. Alligators. Poisonous plants. Stinging insects. Heat. Rain. And, best of all, a tribe of natives known only for their skill at shooting to kill with poison arrows and their ability to disappear into the rainforest.Scott Wallace stepped out of modern life for a few months and headed off into the deepest, darkest parts of the Amazon rainforest with a half-mad guide, in search of the mysterious flecheiros, "People of the Arrow."Give this book a read. Fantastic.
Review by psherman
16/06/2015
I really wanted to like it. I kept thinking that surely on the next page or two, something would happen. When I got to 50 pages from the end, having invested a lot of time in reading this dull account, I decided that if something was going to happen, it surely would have by then, so I quit reading. They go up the river. They get hungry. They get dirty. They see some alligators in the water. They have a non-encounter with the tribe they are looking for (but don't want to actually see, or be seen/killed by), and then they go back down the river. They talk to a few people on the way. My response to this story consists of "So?"
Review by FionaRobynIngram
16/06/2015
The Unconquered by Scott Wallace is his account of an expedition into the deepest recesses of the Amazon, on assignment for National Geographic, to confirm the existence of 'The Arrow People' (or 'les flecheiros') so that their territory may be preserved and protected. Wallace joins Sydney Possuelo; a larger-than-life figure in the history of Brazil's endangered indigenous people, and a man who has devoted his life to saving and protecting the last of the uncontacted tribes. 'Uncontacted' is a bit of a misnomer because the remaining elusive tribes have fled from contact, diving deeper in the vast Amazon to escape what they know (from bitter experience) will happen: death from disease, despoliation of their territory, and the loss of their culture from 'contamination' by modern artifacts and an increasing dependency on them – this fate has befallen many tribes who now straddle the uncomfortable divide between totally indigenous and self-sufficient, and those who no longer can fend for themselves because they have forgotten the old ways of hunting, fishing, and making their own weapons. Brazil's past and indeed much of the South Americas is steeped in blood, both historically and in today's times. The devastation of the forests, the outright plundering of wildlife and natural resources of yesteryear has been tamed but not to the extent that uncontacted tribes can rest in peace and go about heir daily lives. Ever watchful, often times violent (and with good cause), they find their existence is precarious. Amazingly, drug dealers have turned to the Amazon to find passages through; entrepreneurs (in the worst sense of the word) prey on Indians and their territory for precious woods, rare fish and animals, and gold, despite the best efforts of FUNAI (National Indian Foundation), the agency set up to protect the Indians' rights.I found this book hard to read for several reasons. I thought I was prepared for the tragedy unfolding between the pages, having subscribed to newsletters such as Survival International, where a dedicated organisation highlights the plight of indigenous people worldwide. I wasn't prepared for the litany of bloodshed and tragedy that taints Brazil's history. The details of the horrors perpetrated by the architects of Brazil's rubber boom verges on genocide. Colonialism in its worst form still prevails, but this time there is no outside invader: the threat comes from the vilest of Brazil's population, those who don't care a damn about the trail of destruction in their wake. Indigenous Indians are considered a nuisance, and expendable at that. They battle death threats, being shot at, being evicted, being hunted by people who want what is theirs by right; the invaders' reasoning being how can a tiny percent of the country's inhabitants (less than 1%) need so much land (11%)? We have learned very little from history when colonial invaders destroyed indigenous cultures outright and reduced their people to the horrors of dependency and/or death in the name of civilisation. People like Sydney Possuelo and the teams of dedicated 'rangers' deserve better support than they have received. It is an ongoing, thankless task, and one that seems doomed unless the government gets its act together.I also found the book hard going because the actual journey is hard going. From the idyllic start of a river-borne expedition, to the utterly hellish conditions whereby the team members had to toil up inclines and down slopes, drenched and slipping in mud, plagued by ferocious insects, under threat from dangerous wildlife, having to make camp each night by hacking their way through thick foliage, facing dwindling supplies; not to mention food theft, food hoarding, and the kind of weird mentality that takes over a group 'trapped' in an endless round of daily trudging. One is reminded of Joseph Conrad's Heart of Darkness in many ways as a grim madness prevails. Ironically, the team was only minutes away from civilization, had a plane been able to land, but months away from it by foot or boat.At first I thought author Wallace was something of a moaner; he complained endlessly about everything. Then, as I wearily took up the book each night, I began to appreciate exactly what they went through, and the hideous discomforts associated with such a journey. Things such as satellite phones and the like are useless in the dense jungle, so increasingly they had to rely on themselves. Apart from the Indians amongst them who could cope, many did not. No wonder they emerged three months later wild-eyed, exhausted, and much thinner. I ultimately appreciated the mindset and thoughts the author expressed; from saying a special prayer each night, to totally doubting they would ever emerge from the impenetrable jungle. There is so much more in the book than one review can ever tell. The most significant message for me was that we have reached a tipping point where there is very little left that has not been explored, exploited, and ultimately destroyed by civilization's need, greed, and depredation. Where will it end, one wonders? How much more can be stripped from our natural environment before we are left with the bleak, barren, infertile remnants of a once-beautiful planet? The inhospitable dystopian future so fondly depicted by movie makers and writers does not seem either far-fetched or very far away.
Review by slug9000
27/08/2015
I loved this book. It is a first-person account of the author's experience traveling into a remote section of the Amazon rainforest to track indigenous tribes living there. Contrary to what you might expect, the goal of the mission wasn't to actually contact the tribes; rather, the expedition sought to identify where the tribes lived so that the Brazilian government could later track the the tribe's movements and population by air.The book is great on several levels: First and foremost, it is a jungle adventure book. Accessing these tribes is a harrowing process by foot, since they are so deep into the rainforest. Along with the author (who was there as a reporter for National Geographic), there was a photographer, Brazilian citizens working for Brazil's department of Isolated Indians, and members of several "contacted" indigenous tribesmen. The expedition itself was led by a bizarre man named Sydney Possuelo, who has made it his life's mission to protect indigenous tribes from deforestation and crippling exposure to new diseases. Possuelo is a weird man; I spent the entire book trying to figure him out. I alternated between being appalled by him and fascinated by him.Interspersed throughout the jungle tale is a history of the white man's contact with indigenous Amazonian tribes, a history of the department of Isolated Indians, and a history of the evolving theories on how to approach indigenous tribes. Where previously the government sought to "tame" wild Indians, the policy is now to avoid contact, since contact with the white man inevitably brings about loss of native culture and crippling epidemics of disease. (FYI, phrases like "wild Indians" sound extremely derogatory when I write them here, but the author is actually quite sensitive in his use of language throughout the book - whenever he uses words like "wild," "tamed," or "civilized," he is quick to provide historical context to explain his choice in language). The author's discussion of the issue of contact versus no-contact is even-handed and at times philosophical. He raises some interesting questions that genuinely made me think about both sides of the issue. The plight of the so-called "contacted" tribes is eye-opening, with applications to our own tenuous relationship with Native Americans in the US.I highly recommend this book. It is an adventure book, complete with monkeys and sloths and fire ants, but also a very eye-opening look at our culture of consumption and the havoc we have wreaked on all the inhabitants of the rainforest - plants, animals, humans.
Also by Scott Wallace