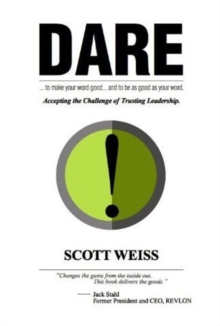 Dare: Accepting the Challenge of Trusting Leadership
Hardback
Description
Not Business as Usual In the current business climate of distrust, cynicism, and fear, Scott Weiss offers a radical challenge to those of us who lead others.
His call for authentic leadership means dropping the mask of the Executive Persona as well as the camouflage and doubletalk of traditional corporate communications.
It demands an end to our self-deceptions and the deception of others in the name of business as usual.
Those who are brave enough to accept his DARE will discover...; More loyal, satisfied clients and customers; Reduced turnover and more; engaged employees; A more creative, innovative, and collaborative workplace; Less personal conflict and more genuine relationships; The passion to thrive, not just survive, in our professions A courageous book that calls on leaders themselves to step up and make the changes that will rebuild trust and restore business integrity for customers, employees, and the global public.
Also by Scott Weiss