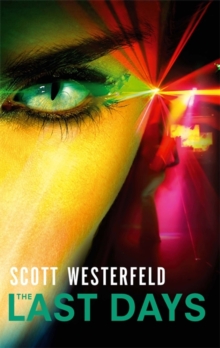 Description
Strange things are happening: people going crazy in the streets, old friends disappearing, angels (or devils) clambering on the fire escapes of New York City. But for Pearl, Moz and Zahler, all that matters is their new band. As the city reels under a mysterious epidemic, the three combine their talents with a vampire lead signer and a drummer whose fractured mind can glimpse the coming darkness. Will their music stave off the end of the world? Or summon it?Set against the gritty apocalypse that began in Parasite Positive, THE LAST DAYS is about five teenagers who find themselves creating the soundtrack for the end of the world.
Information
Format: Paperback
Pages: 288 pages
Publisher: Little, Brown Book Group
Publication Date: 02/08/2007
Category: General
ISBN: 9781905654062
Free Home Delivery
on all orders
Pick up orders
from local bookshops
Reviews
Showing 1 - 1 of 1 reviews.
Review by AHS-Wolfy
16/06/2015
This is the 2nd book of the [Peeps] duology and so this review will probably include at least minor spoilers for the first book.Rather than just offer up the continuing adventures of the same characters that survived until the end of the last book, this sequel instead focuses on 5 new characters who meet and go on to form a band. These 5 are all around the age of eighteen. Moz (Guitar) meets Pearl (Keyboards) when they manage to save a Stratocaster when it has been thrown out of a window by someone who seems intent on getting rid of everything in their life. Moz is one of those directionless and unfocused teenagers who spends his time jamming with his friend Zahler (Guitar/Bass) in hope of one day forming a band. Pearl, a Juilliard student, suggests they get together to see if they can do just that and if things go well she may even know a singer she can being in. Zahler may even be able to find a drummer. Alana Ray (Drums), who has a form of autism and also has visions of what music actually looks like, busks in Times Square, playing her own unique music on paint drums, but when Moz agrees to pay her for her time she agrees to join in with the others. Minerva (Vocals) is one of the infected but with the help of an esoterica has passed through the worst and is on her way to being able to function almost normally again. Right from the get-go they realise they have something special but can they get their music out there before society crumbles and fame is no longer an option.More and more people are succumbing to the new disease, there are places that city officials are no longer willing to go. Garbage is piling up on the streets and hordes of rats scurry openly above ground as well as below. The temperature is soaring and the rumblings underground are no longer the sole property of the subway trains. Can the newly formed band hit the heights before everything crumbles around them. Will what they play have an effect on whatever it is that's causing these events to transpire or will they just help bring about the end of days?While not being a straight sequel in the traditional sense, the story of the previous characters had been told so it makes sense to have new leads this time around. Those wondering what happened to Cal & Lacey needn't worry too much though as they do re-appear in the later part of this book. The five different viewpoints could have been confusing but as each has their own distinct voice it was not difficult to know who you were with at the time but each chapter heading includes that character's name at the beginning anyway. While this book is a self-contained story and you don't have to have read the previous one to understand what's going on, I would still recommend that you do so to gain the full understanding as some aspects are treated as though the reader already has a familiarity with them. A fast-paced, enjoyable story that fits squarely in the young adult bracket.