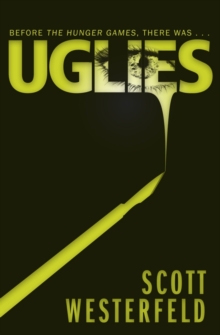 Description
Tally can't wait to turn sixteen and become Pretty.
Sixteen is the magic number that brings a transformation from a repellent Ugly into a stunningly attractive Pretty, and catapults you into a high-tech paradise where your only job is to have a really great time.
In just a few weeks, Tally will be there. But Tally's new friend, Shay, isn't sure she wants to be Pretty.
She'd rather risk life on the outside. When Shay runs away, Tally learns about a whole new side of the Pretty world - and it isn't very pretty.
The authorities offer Tally the worse choice she can imagine: find her friend and turn her in, or never turn Pretty at all.
The choice Tally makes changes her world forever.
Information
Format: Paperback
Pages: 448 pages
Publisher: Simon & Schuster Ltd
Publication Date: 29/03/2012
Category: Fantasy
ISBN: 9780857079138
Other Formats
EPUB from £4.99
eAudiobook MP3 from £20.15
Paperback from £6.39
Free Home Delivery
on all orders
Pick up orders
from local bookshops
Reviews
Showing 1 - 4 of 4 reviews.
Review by charliet383
16/06/2015
set in a post scarcity dystopian world this tells the story of a 15 year old girl called tally Youngblood.tally lives in a world where people are separated into cities depending on whether they are pretty or ugly, children must stay ugly until their 16th birthday where they undergo an operation to become 'pretty'.Tally doesn't want to become a pretty though and decides to escape into the wild called the Smoke where a group of people called Rusties still live.i heard very good things about this series and i received them as a present for Christmas so i started to read them straight away and found the reviews to be correct and i did actually enjoy this.i really like dystopian books and although i don't think anything can beat the Hunger Games this is definatley up there with them.i found this book to be a relatively quick read even though its more than 400 pages, i finished in 2 days probably due to the fact that i couldn't put it down once i started!i liked how the author made the characters very likable and how the action started straight away because as we all know there is nothing worse than a book that takes ages to kick in.i have read the second book in this series and is currently reading the 3rd, i really enjoyed this book so naturally wanted to read the rest of the series but also the fact that Scott Westerfeld included a cliffhanger and the end of the book was a clever way of making the reader want to read the rest of the series.i would definatly recommend this book to people who enjoy the young adult and dystopian genres no matter your age and also for people who enjoyed the hunger games trilogy.happy reading, Charlie :)
Review by bookloverLucy
16/06/2015
I liked this book, although it's really mostly aimed at teenagers (which is to be expected of course, since it's a YA book - I just mean that I've read some YA books that have a more mature feel and writing style, and this definitely sits around the 16-18 age group). Ether way, it's a good book in my opinion, and worth a read. What I liked best was the idea behind it, and that for a dystopian novel it really does sit in a moral grey area for me. When they mentioned the inequality there used to be between people because of the sheer chance of being born attractive or not, and issues to do with eating disorders, it felt more realistic that their society could have come to that point. Of course the surgery is still wrong, I'm right with Shay on that one, but hey - that's the point of the novel. It's a shame that the protagonist Tally doesn't realise that earlier on, which means she's not really all that likeable for most of the book. But there's plenty of room for growth, with another couple of books in the series. I'm very interested to see what happens in the next book.
Review by Yogiboo
16/06/2015
Very slow going but picked up about halfway through! Tally is a really annoying individual that you would want to slap several times but she gets better towards the end. I thought it was strange that even though the smoke was full of people, they only rescued 7 people and all of whom you meet in the story and nobody new appears! Bit limited but I did enjoy it and will read the next instalment .
Review by reading_fox
16/06/2015
Interesting premise, reasonably well executed, a couple of gross science errors were annoying, but other than that quite fun.Sometime in the future society has collapsed through the overuse of resources, and humanity has survived only in careful cities fully green powered but with ample technology. Social engineering has also taken place, with society carefully structed along age lines. 'Littlies' live with their parents in the suburbs before moving to dorms as teenagers. Here they wait, working and playing tricks for the magical age of 16 when they undergo their first operation to become pretty. When they can finally live properly and party. All of humanity is moulded to fit statistically approved definitions of acceptable appearance and behavior. Unless of course you meet someone who doens't conform. And then you learn about life's Special Circumstances - true the world over, but especially when you're attempting to shape utopia. It's dissappointing that basic science errors crept in. Gold is not magnetic. It would have been far better if the hover boards had been left as just anti-gravity devices. Trying to explain their power by giving a pseudo-scienctific explanation for it, and then getting it wrong, is far worse. But generally it was fun, plucky kids against the stodgy adults always goes down well. Plot wise there is nothing particularly special here, the usual inept adminsitrators etc. But the social engineering aspect of a future society bares some thinking about.I'm not sure I'm that bothered about reading the rest of the series, but I probably will if I come across them.