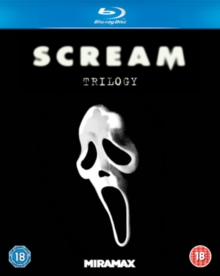 Description
Wes Craven's smash hit horror trilogy is a post-modern take on the slasher cycle of the late Seventies and early Eighties, which included the director's own 'A Nightmare on Elm Street'.
In 'Scream' (1996), a psychotic freak with a love of horror flicks murders teenager Casey Becker (Drew Barrymore) in the small American town of Woodsboro.
The killer then begins terrorising Casey's classmate, Sidney Prescott (Neve Campbell), whose mother was murdered a year earlier.
When Sidney encounters the stalker and escapes, her boyfriend Billy (Skeet Ulrich) is arrested.
However, the phone calls and killings continue. The sequel, 'Scream 2' (1997), takes place a year on from the events of the first film.
Survivors Sidney Prescott and Randy Meeks (Jamie Kennedy) are now students at the same college.
A movie based on the Woodsboro murders, 'Stab', sparks off a series of copycat killings, and soon the nightmare is beginning all over again.
While Sidney wonders who she can really trust, Randy teams up with former police deputy Dewey (David Arquette), still recovering from the effects of his stabbing the first time round, to work out the rules of a real-life horror sequel.
One thing's for sure: the body count has to be higher.
Also back on the scene are reporter Gale Weathers (Courteney Cox Arquette), who has successfully published her own account of the original killings - sacrificing her romance with Dewey in the process - and Cotton Weary (Liev Schreiber), the man Sidney had wrongfully imprisoned for her mother's murder.
The third and final instalment is 'Scream 3' (2000).
When talk show host Cotton Weary - the man once wrongly suspected of carrying out the first of the notorious Woodsboro killings - is himself murdered by a masked figure, plenty of free publicity is provided for 'Stab 3 - Return to Woodsboro', the third in a series of films based around the real-life events.
When two of the film's cast are also murdered production is called to a halt, and the three remaining Woodsboro survivors - recluse Sidney Prescott, television reporter Gale Weathers and fomer police deputy Dewey Riley - join forces to find the killer.
Information
Format: Blu-ray
Region: B
Certification: (18)
EAN: 5060223763170
Catalogue number: MIRLGB94586
Studio: Miramax
Release date: 18/04/2011
Genre: Horror/Occult
Colour: Colour