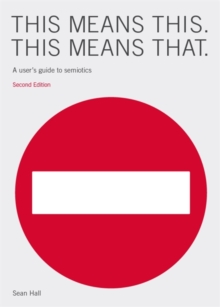 This Means This, This Means that (2nd
Paperback
Description
Semiotics is the theory of signs, and reading signs is a part of everyday life: from road signs that point to a destination, to smoke that warns of fire, to the symbols buried within art and literature.
Semiotic theory can, however, appear mysterious and impenetrable.
This introductory book decodes that mystery using visual examples instead of abstract theory.
This new edition features an expanded introduction that carefully and clearly presents the world of semiotics, before leading into the book's 76 sections of key semiotic concepts.
Each short section begins with a single image or sign, accompanied by a question inviting us to interpret what we are seeing.
Turning the page, we can compare our response with the theory behind the sign, and in this way, actively engage in creative thinking.
A fascinating read, this book provides practical examples of how meaning is made in contemporary culture.
Information
Format: Paperback
Pages: 192 pages, 75 illustrations, 45 in colour
Publisher: Laurence King Publishing
Publication Date: 01/02/2012
Category: Semiotics / semiology
ISBN: 9781856697354
Free Home Delivery
on all orders
Pick up orders
from local bookshops
Reviews
Showing 1 - 1 of 1 reviews.
Review by aulsmith
16/06/2015
I picked this book up, because unlike other books I've seen on semiotics, it seemed to have be a systematic approach to the subject, dividing up the field into varies types of analysis and those types into things that are looked at. It also offered examples of pictures and texts for the reader to analyze. Unfortunately, as I always find with material on this subject, postmodernism trumped any systematics, so that it was often hard to tell what the picture/text had to do with the topic at hand and the explanations were less than clear. I think in the end while I'm very interested in the analysis of meaningful content in all its forms, I'm basically a structuralist at heart, and don't thing that things can mean anything you want them to.