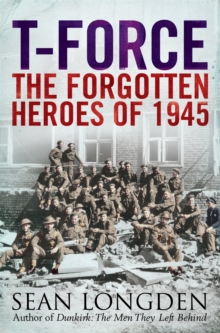 T-Force : The Forgotten Heroes of 1945
Paperback
Description
When Ian Fleming wrote Moonraker, he was not working solely from his imagination.
In 1945 he had been involved in the formation of T Force, a secret unit of British soldiers who were thrown into a deadly race to uncover Nazi Secrets before they fell in to the hands of Stalin's advancing troops.
The force included infantrymen, many of them only just recovered from the ordeal of D-Day, engineers, bomb disposal experts, commandos and teams of expert scientists.In a breakneck pursuit - often entering locations before other allied troops - they uncovered underground factories and nuclear testing sites, as well as defying the ceasefire and carrying out the final advance of the war to capture the Nazi submarine research facilities at Kiel, overpowering 12,000 fully-armed Germans with only 500 men and a handful of jeeps.
In the aftermath of war, T-Force were also involved in the treacherous transportation of scientists out of the the Soviet zone.
With exclusive access to previously unseen documents and extensive interviews with the key figures, Sean Longden reveals the story of T Force for the first time - and uncovers Ian Fleming's last Second World War Secret.
Information
Format: Paperback
Pages: 464 pages
Publisher: Little, Brown Book Group
Publication Date: 20/10/2005
Category: British & Irish history
ISBN: 9781849012973
Free Home Delivery
on all orders
Pick up orders
from local bookshops
Reviews
Showing 1 - 2 of 2 reviews.
Review by ten_floors_up
16/06/2015
This book is not quite what the title suggests, though no doubt that final subtitle was chosen to sell more copies. It is a studied and human view of the man and operations of a rather unconventional British force. This force was rapidly formsd and trained, then employed equally rapidly to secure German military and then industrial sites, secrets and personnel in the last few months of World War 2. The process continued in a different way in post-war Germany. I use the word human, because there is considerable focus on the men themselves, and this book is not exactly military history. It does however attempt to re-cast certain aspects of military history regarding Hamburg. Hours before the end the end of world war 2 in Europe, a mad chase ensued in which competing units (including Fleming's predictably 'colourful' unit) drove at top speed to Hamburg in contradiction of 'hold fast' orders which formed part of the ceasefire and surrender agreement with German forces. It is suggested their actions were neither officially sanctioned, nor completely discouraged, in the hope of denying Germany's main port and route to the sea to Russian forces. T-force itself was quite different from the swashbuckling force created by Ian Fleming in Naval Intelligence for covert operations. It was by contrast a disparately-staffed unit of both veterans and rookies, often with little desire for military confrontation or firefight - they were not front-line troops. However, their objectives were often just behind or slightly ahead of the military advance. These men found themselves in an increasingly complex, politically-charged, and sometimes even distasteful position as war progressed to peace. Originally tasked to secure military-industrial resources in the name of 'the war effort', they found their role substantially changed in the race to control vital parts of Germany before the war ended and before the Russian army pre-empted them. Also, once the situation was relatively stable post-war, motive for their activities became less clear. Certain parts of British industry seemed to have official backing to plunder Germany of its industrial secrets, other intellectual and industrial property and staff. This ultimately proved distateful for some of these men, as the 'war effort' motive was now completely transformed. The British aid given to regenerate Volkswagen, for example, was perhaps the exception rather than the rule. Some men stayed long-term post-war, but for many the desire was to get home as soon as possible. They didn't see the need to deny a nation of the means to recover. Arguably, the need to start afresh ultimately served to rejuvenate the German economy, while the British economy rested on its sometimes borrowed laurels and failed to adapt to peace and the utterly changed new world order.
Review by fakelvis
16/06/2015
Beginning with the swift formation of the elite unit toward the end of WWII, 'T-Force' details the evolution of this force and some related units as they attempt to rapidly and safely secure German industrial and military secrets, locations and people (everyone from workers to cutting-edge research scientists).Well researched and packed with wondrous stories, I learnt a lot about what it meant to be involved in the military toward the end of the war. This is definitely a history book, but in many places it reads like a novel.To hear what's great about this book, read the 5-star reviews on Amazon: they are correct and I will not repeat them. Here's what I thought could have been improved…The personal stories make this a great read, but the technical information is slightly limited and I would have loved it if Longden had gone into greater detail when describing what became of a number of the findings and what technologies they helped bring to existence in the post-war world.Overall the book could have done with some tighter editing, too: a number of points were often repeated, almost verbatim. It was slightly confusing at times when an entire paragraph was almost identical to one I had read the previous day. Not a showstopper in terms of reading and enjoying this book, but it would have been nice if my 'flow' hadn't been disturbed by these anomalies.