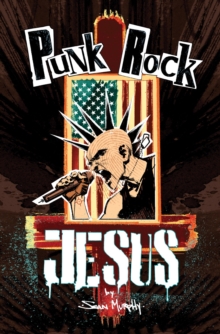 Punk Rock Jesus
Paperback / softback
Description
A reality TV show starring a clone of Jesus Christ causes chaos across theU.S. of the near future in Punk Rock Jesus, a new graphic novel writtenand drawn by Sean Murphy, the acclaimed illustrator of Joe the Barbarianand American Vampire. J2 causes both outrage and adulation. Religious zealots either loveor hate the show, angry politicians worry about its influence on the nation, andmembers of the scientific community fear the implications of cloning a humanbeing at all, let alone the Son of God.
Thomas McKael is the clones's bodyguardand former IRA operative who, despite his turbulent past, is hired to protectthe new Jesus - a baby who captivates the world, but grows up to become anangry teenager.
When falling ratings force the network to cut Jesus's motherfrom the series, the young star runs away, renounces his religious heritage, andforms a punk rock band. And what starts off as babysitting for Thomas becomes anepic battle, as Jesus goes to war against the corporate media complex thatcreated him.
Information
Format: Paperback / softback
Pages: 224 pages
Publisher: DC Comics
Publication Date: 09/04/2013
Category: Fantasy
ISBN: 9781401237684
Free Home Delivery
on all orders
Pick up orders
from local bookshops