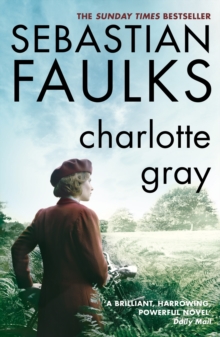 Description
In 1942, Charlotte Gray, a young scottish woman, goes to Occupied France on a dual mission - officially, to run an apparently simple errand for a British special operations group and unofficially, to search for her lover, an English airman who has gone missing in action.
In the small town of Lavaurette, Sebastian Faulks presents a microcosm of France and its agony in 'the black years'.
Here is the full range of collaboration, from the tacit to the enthusiastic, as well as examples of extraordinary courage and altruism.
Through the local resistance chief Julien, Charlotte meets his father, a Jewish painter whose inspiration has failed him.
In a series of shocking narrative climaxes in which the full extent of French collusion in the Nazi holocaust is delineated, Faulks brings the story to a resolution of redemptive love.
In the delicacy of its writing, the intimacy of its characterisation and its powerful narrative scenes of harrowing public events, Charlotte Gray is a worthy successor to Birdsong.
Information
Format: Paperback
Pages: 512 pages
Publisher: Vintage Publishing
Publication Date: 01/05/1999
ISBN: 9780099394310
Other Formats
CD-Audio from £12.15
EPUB from £4.99
eAudiobook MP3 from £9.60
Free Home Delivery
on all orders
Pick up orders
from local bookshops
Reviews
Showing 1 - 5 of 9 reviews.
Previous | Next
Review by s_mcinally
16/06/2015
Not up to Birdsong, and in the main fairly pedestrian, however, some parts were excellent and for them it is well worth reading. His description of the jewish children getting taken to the camps will be with me forever. The old father's story is also very good. I If I could mark it only on the good bits then it would be a 4 but the pedestrian parts brought it down to the 3
Review by whirled
16/06/2015
For years I've been thinking of myself as a Sebastian Faulks fan - reading this book made me realise, finally, that I am merely someone who enjoyed <i>Birdsong</i>. This is the third time I've finished one of his books feeling frustrated, befuddled and bored.All the ingredients are there - young Scottish lass heads to London during World War II, finds romance and independence, dabbles in espionage while she's at it - what's not to like? And yet <i>Charlotte Gray</i> is somehow tepid and lacking in dramatic tension. For me, the main issue was that Charlotte Gray flitted from scene to scene, seemingly achieving very little in her 'work' for the French Resistance. In this and in her romance with airman Peter Gregory, there is little sense of Charlotte having something at stake. I have two more Sebastian Faulks books on my shelf, but they are being moved to the bottom of my towering 'to be read' pile. Disappointing.
Review by towncalledmalice
16/06/2015
The description of the children being deported was so sad and moving - really made an impact on me - haunting. Gives a greater understanding of the complexities of the Nazi occupation of France. A
Review by john257hopper
16/06/2015
Most of this was good and well written, though not on a par with the great Birdsong. However, the last third or so was more dramatic and harrowing, especially the fate of M Levade and the two boys Andre and Jacob.
Review by mearso
16/06/2015
Found the feeling of tender, urgent romance created by Faulks immensely enjoyable. The central character doesn't dominate the book - more of an ensemble piece where you find yourself caring about many of the characters. </p><p>No easy happy endings, and illuminating on the complexities of wartime France. More complex and nuanced than the heroic resistance plot familiar in our history books.