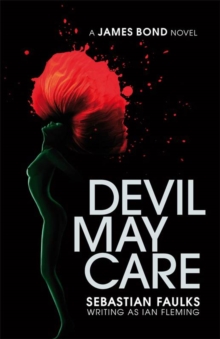 Description
"Devil May Care" will be published in May 2008 to celebrate the Centenary of Ian Fleming's birth.
This new installment in the adventures of the world's most iconic spy has been written by one of Britain's most admired novelists, Sebastian Faulks. 'My novel is meant to stand in the line of Fleming's own books, where the story is everything' said Faulks, 'In his house in Jamaica, Ian Fleming used to write a thousand words in the morning, then go snorkelling, have a cocktail, lunch on the terrace, more diving, another thousand words in late afternoon, then more Martinis and glamorous women.
In my house in London, I followed this routine exactly, apart from the cocktails, the lunch and the snorkelling'.Picking up from where Fleming left off in 1966 with "The Living Daylights / Octopussy", Faulks has written the perfect continuation of the James Bond legacy. "Devil May Care" is set during the Cold War and features all the glamor, thrills and excitement that one would expect from any adventure involving Bond...James Bond.
Information
Format: Hardback
Pages: 320 pages, map,
Publisher: Penguin Books Ltd
Publication Date: 28/05/2008
Category: Espionage & spy thriller
ISBN: 9780718153762
Other Formats
Paperback from £7.09
EPUB from £3.99
eAudiobook MP3 from £8.00
Free Home Delivery
on all orders
Pick up orders
from local bookshops
Reviews
Showing 1 - 5 of 5 reviews.
Review by Elphaba71
16/06/2015
Having never read any of Ian Flemings James Bond novels, I wasn't too sure what to expect from Faulks. The reviews on Amazon are really mixed, but for me, I thought it a great novel, I was hooked from page one, plenty of Pace, action, thrills, & humor.
Review by macflaherty
16/06/2015
This is pretty bad. I don't know what Fawkes was doing. At times it seemed like the screenplay of an Austin Powers movie.
Review by TheoClarke
16/06/2015
This gained a slight advantage from being about a character whom I dearly love but it is an essentially unremarkable spy thriller with a few notable highpoints. I enjoyed the occasional gentle puns, the references to specific Fleming novels and many nods to Fleming's literary tics. The book peaked with the tennis duel, which was a bit early to start the downhill run but it was an entertaining ride.
Review by theboylatham
16/06/2015
Six out of ten.
A savage execution in the desolate outskirts of Paris sets in motion a chain of events designed to lead only to global catastrophe, as a tide of lethal narcotics threatens to engulf Sixties Britain, a British airliner goes missing over Iraq and the thunder of coming war echoes round the Middle East...
Typical James Bond book. Action packed but easy to read.
Review by aadyer
16/06/2015
This started well, and to be honest, it was less pastiche than actual replica of Fleming. Loved the setting, loved the build up, the gambling & match with the major villain all proceeded well, and reminded me very strongly of Umberto Eco's analysis of the Bond novels. All went as per formula but enjoyable none the less, then after the half way mark, it became more cinematic, less dramatic, and more like Movie Bond than Fleming. Some of the background colour returned in parts, eg Mathis research into the villain's henchman, but the last third in particular read like a film script, and this was not really Fleming at all. If I could have given this 3.5 stars then I would have done. Good, but not near the standard of the Best Fleming's & after such a promising start by Mr Faulks, I was expecting more. Worth a read, but not to put something else aside to read, if you take my meaning