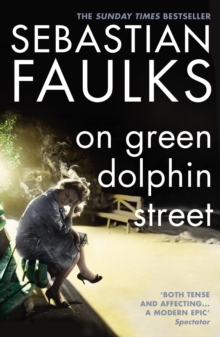 On Green Dolphin Street
Paperback
Description
'Superbly done... Another winner' Sunday TelegraphAmerica, 1959. With two young children she adores, loving parents back in London, and an admired husband, Charlie, working at the British embassy in Washington, the world seems an effervescent place of parties, jazz and family happiness to Mary van der Linden.
But the Eisenhower years are ending, and 1960 brings the presidential battle between two ambitious senators: John Kennedy and Richard Nixon.
But when Frank, an American newspaper reporter, enters their lives Mary embarks on a passionate affair, all the while knowing that in the end she must confront an impossible decision.
Information
Format: Paperback
Pages: 352 pages
Publisher: Vintage Publishing
Publication Date: 03/05/2002
ISBN: 9780099275831
Other Formats
Audio cassette from £11.25
CD-Audio from £12.15
EPUB from £3.99
Free Home Delivery
on all orders
Pick up orders
from local bookshops
Reviews
Showing 1 - 4 of 4 reviews.
Review by mashley
16/06/2015
Like this author. Not my favorite of his.
Review by lizchris
16/06/2015
This is a story of early 1960s life in American diplomatic and journalist circles. The book evokes a great sense of place and time, the excitement of the Kennedy election, life on the streets of New York, the real fear of Russia. The novel revolves around a diplomat's wife called Mary. Her love for her children is beautifully written but the author can't seem to find the words to describe intense love between adults and so some of the dialogue feels a little hackneyed.
Review by outside-jane
16/06/2015
A wonderfully visual and evocative tale set during the Nixon-Kennedy election campaign. It reminded me of Mad Men: there's a simplicity and stillness in the telling. As always Faulks gives us well written and sympathetic characters, who I grew to care for. I am still musing on the ending... it was tough! But maybe right. Great book, from a fast becoming favourite author. Definitely recommend.
Review by Eyejaybee
16/06/2015
A wholly enthralling love story, set in Washington DC in 1959-1960, against the backdrop of the Kennedy-Nixon election contest.Charlie van der Linden is a British diplomat based at the embassy in Washington where he is viewed as a high flier because of the depth of his analysis of the prevailing political scene in America. he lives with his wife Mary and their two young children, though the children are about to depart for boarding school back home. As the novel opens they are holding a party to celebrate their wedding anniversary. One of the guests is a political journalist, Frank Renzo, whom Charlie had encountered fleetingly years before in Dien Bien Phu, in Vietnam,during the ill-fated siege of the town that led to the French withdrawal from Indochina. On the basis of this very slight acquaintance (that in fact the sozzled Charlie can scarcely recall) Frank is invited to come along to the party. There he immediately (and utterly irretrievably) falls in love with Mary, and it gradually becomes evident that she returns his passion.The novel then details the progress of their affection for each other, while also chronicling the presidential election campaign. Charlie does not realise what is happening as he is becoming increasingly dependent upon the vast amounts of alcohol that he consumes, to such an extent that his career is threatened.Faulks captures the depth of the respective characters' emotions faultlessly - this an yet another tour de force from him. He has a fantastic knack of pitching the emotional intensity just right.