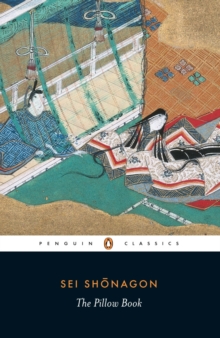 The Pillow Book
Paperback
Description
A new translation of the idiosyncratic diary of a C10 court lady in Heian Japan.
Along with the TALE OF GENJI, this is one of the major Japanese Classics.
Information
Format: Paperback
Pages: 400 pages
Publisher: Penguin Books Ltd
Publication Date: 30/11/2006
ISBN: 9780140448061
Free Home Delivery
on all orders
Pick up orders
from local bookshops
Reviews
Showing 1 - 5 of 7 reviews.
Previous | Next
Review by catarina1
16/06/2015
Written by a member of the court in Heien-kyo (present-day Kyoto) about 990-1000 AD. Sei Shonagon is more of a title than it is her actual name. She was a "lady-in-waiting" to Empress Sadako who was a member of the Fujiwara clan.The book consists of her observations of court life, descriptions of nature, and many lists of things - embarrassing things, depressing things, elegant things, things worth seeing, etc. Sometimes she is peevish and petty. And she doesn't hide her scorn for the lower classes. But she writes wonderful descriptions of court life, of the clothing they wore, their carriages, even the traffic jams in Kyoto.One of her pleasing things - "finding a large number of tales that one has not read before. Or acquiring the second volume of a tale whose first volume one has enjoyed."
Review by Capfox
16/06/2015
Reading a book written over a thousand years ago always has its challenges and its rewards. This isn't the first time I've tackled some Heian Japan literature, having read some of Genji before, along with a number of poetry compilations for classes. Still, this was one that had never really showed up in anything I'd tried reading before, and I'd always held that to be due to its reputation as being relatively frivolous. This one's also a classic, though, and it seemed like rather a hole to have in my knowledge.The book is rather a diary of events and lists compiled by Sei Shonagon during her stay in the court of Empress Teishi, at the end of the tenth century. The lists can be amusing when they're not just place names, as they prove a good point for both displaying Sei's wit and also the timelessness of some of her entries. When it comes to things that are pleasant or things that look stiflingly hot or such, some things have changed over the centuries and some haven't, and that makes for an interesting read. And much of the sense of her personality, a bit vain, a bit prickly, but warm and challenging all the same, comes through here, too.The parts that shine the most to me are the little anecdotes about court life, her interactions with the other court ladies, the Emperor and Empress, the appointed court nobles, and the like. These are tales of little day to day events, along with trips to temples and festivals and the like, and they give you a real sense for what life was like then. Sei has a very good eye for details, particularly in fashion, and has a good memory for the poetry and dialogue.I think to really appreciate the book does require the background reading; I had the McKinney translation, which I found quite good, and the historical and biographical information at the beginning really put the text in perspective. Much of the time in court, Sei was writing after her particular lady's star had begun to fall, and you only get a sense of it in the narrative in a few places, but if you hold it in mind as you read it, you definitely get a different view on the story.All in all, I found this enjoyable, if a bit tedious at the points you have to read through several lists in a row. It's a good window on a different time, and not nearly so frivolous as I'd been led to believe. If you're interested in the time period, give it a shot.
Review by clfisha
16/06/2015
[The pillow book] by Sei ShonagonFascinating 11th century Japan diary(3.5 of out 5) Sei is a terrible snob, highly intelligent and idealistic and much fun and this is her 'pillow' book. Private musings and observations of court life. Mixed in with descriptions of clothes, gossip and romantic tales we get brief lists of beautiful words for use in art of poetry. For Sei poetry was a deeply important, much admired skill. So from a quick witty response referencing a famous poem, to artful courtship of letters or just entertaining the empress with word games, poetry could enhance ones reputation and standing. This skill of this particular translation (Penguin classics) makes all this accessible and interesting to the laymen. Puns on obscure Chinese poetry can be ignored or followed with no impact on enjoyment. The multiple appendices on Heian court are well worth a look though, adding much more depth to Sei's diary. I feel bad for rating this so low. Its a fascinating and interesting read, translated well, packed with notes appendices and written by an engaging author. It is what it is though, a series of lists and vignettes of Japanese court life in the Hein period. Whether you like this book depends how interested you are in the period.
Review by tronella
16/06/2015
The first book I read on my Kindle! Possibly not a great choice, considering the (unnecessarily) large number of footnotes, but I enjoyed it nonetheless. This book was written in Heian Japan, by one of the Empress's serving women. It contains lists of poetic placenames, good colour combinations and things which are better at night ("Someone whose appearance is rather unattractive but who has a pleasant personality."), anecdotes mostly about people apparently conversing entirely in witty references to poems, accounts of festivals and a whole jumbled collection of other things. Sei Shonagon is pretty sarcastic and things very poorly of anyone of "low rank", and I feel like I know a lot about her personality just from her descriptions of court life.Some quotes I apparently felt the need to highlight while reading:"Everything that cries in the night is wonderful. With the exception, of course, of babies.""Embarrassing things – The heart of a man.""It's terribly depressing to discover some quite worthless person blithely reciting a poem that you yourself had particularly liked and carefully copied down in a notebook."
Review by LostInHistorie
16/06/2015
Snob, critical, her own words: "old and not so pretty", but really sharp and no shame... I like her.