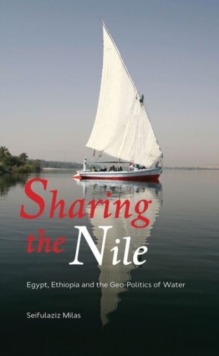 Sharing the Nile : Egypt, Ethiopia and the Geo-Politics of Water
Hardback
Description
The Nile, the longest river in the world, is a both a resource for agriculture and industry and a mechanism of power.
Drawing on decades of experience in the Horn of Africa, Seifulaziz Milas reveals the political nature of the 'Great River', recounting the history of disputes over its waters. Herodotus wrote that 'Egypt was the gift of the Nile' and the relationship of the Egyptian regimes to the river, from colonial rule under Benjamin Disraeli to present, have been central in shaping the politics of the country and its foreign policy.
Examining Egypt's central role in the river's politics, as well as its function for the ten other Nile countries, including Sudan, Somalia and Ethiopia, Milas' study takes in quests for dominance, the impact of the Nile Basin Initiative that advocates for shared socio-economic benefits of the river, and the potential for conflict over ownership of the river.
In outlining the history of disputes and power struggle, Milas hopes the Nile countries can learn from past mistakes, and suggests a way forward, based on co-operation, peace and development.
Information
Format: Hardback
Pages: 216 pages
Publisher: Pluto Press
Publication Date: 08/07/2013
Category: International relations
ISBN: 9780745333212
Free Home Delivery
on all orders
Pick up orders
from local bookshops