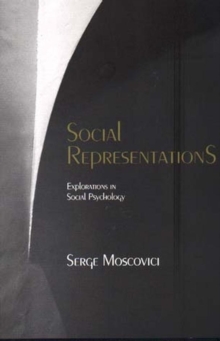 Social Representations : Explorations in Social Psychology
Paperback / softback
Description
Serge Moscovici first introduced the concept of social representations into contemporary social psychology nearly forty years ago.
Since then the theory has become one of the predominant approaches in social psychology, not only in continental Europe, but increasingly in the Anglo--Saxon world as well.
While Moscovicia s work has spread broadly across the discipline, notably through his contributions to the study of minority influences and of the psychology of crowds, the study of social representations has continued to provide the central focus for one of the most distinctive and original voices in social psychology today.
This volume brings together some of Moscovicia s classic statements of the theory of social representations, as well as elaborations of the distinctive features of this perspective in social psychology.
In addition the book includes some recent essays in which he re--examines the intellectual history of social representations, exploring the diverse ways in which this theory has responded to a tradition of thought in the social sciences which encompasses not only the contributions of Durkheim and Piaget, but also those of Levy--Bruhl and Vygotsky. The final chapter of the book consists of a long interview with Ivana Markova, in which Moscovici not only reviews his own intellectual itinerary but also gives his views on some of the key questions facing social psychology today.
The publication of this volume provides an essential source for the study of social representations and for an assessment of the work of a social psychologist who has consistently sought to re--establish the discipline as a vital element of the social sciences.
Free Home Delivery
on all orders
Pick up orders
from local bookshops