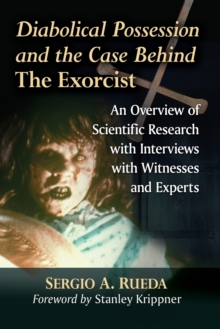 Diabolical Possession and the Case Behind The Exorcist : An Overview of Scientific Research with Interviews with Witnesses and Experts
Paperback / softback
Description
The book explores the issues of exorcism and demonic possession and its meaning on this new twentieth century.
The author presents leading experts in the field of mental health, sociologists and theology which face off the classic battle royale of science versus religion and good versus evil. Framed within the most famous and widely documented exorcism case in the history of Christianity, the 1949 exorcism of a thirteen year old boy in Mt.
Ranier, MD on which William Peter Blatty based his celebrated novel and later film The Exorcist, the most frightening horror film to come out of Hollywood, the author explores the controversial subject in the light of science. "Is demonic possession, like sin, one of the dead metaphors supposedly killed off by scientific spirit of the 21st century?" "Is our quest for the existence of such phenomena reflected in the human need to live in a world where evil embodies the image of Satan-the fallen angel who inhabits the inner circle of Dante's inferno?" "Is the Antichrist a living and viable force at work in our lives, awaiting his next opportunity to exert his influence as he attempts to drag the world into a state of chaos?". The author presents documents on the Mount Rainier Exorcism never before unveiled that had remained hidden in the archives of the prestigious Rhine Research Foundation, former Duke University Parapsychology Laboratory since 1949.
For the first , he uncovers the mystery of the Mount Rainier Exorcism, via a rigorous scientific methodology ,and presents interviews with actual witnesses of the case and photographs of the actual sites where the mysterious events took place never before released.
The author may finally settle down the mystery surrounding the Mount Rainier case and The Exorcist.
Information
Format: Paperback / softback
Pages: 2226 pages, Photographs
Publisher: McFarland & Co Inc
Publication Date: 30/11/2018
Category: Religion & science
ISBN: 9781476673844
Free Home Delivery
on all orders
Pick up orders
from local bookshops