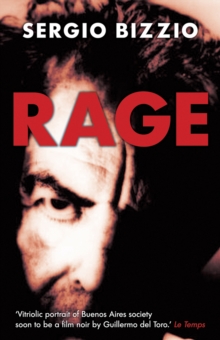 Description
Jose Maria, a construction worker, is in love with Rosa, a maid in an exclusive Buenos Aires mansion.
Subjected to constant humiliation by his foreman, Jose Maria kills him.
He hides on an empty floor in the mansion, and remains there for years without even raising Rosas' suspicion.
Jose Maria silently observes his lover in her most intimate moments and watches the decadent behaviour of the owners and their hypocritical relationships.However, Jose Maria will also be privy to more humiliating experiences - he watches as Rosa is raped by the young son of the family, and later becomes pregnant by a repulsive neighbour.
Still, in the midst of all this and from his bizarre, self-imposed imprisonment, Jose Maria will, somehow, be able to reflect upon and understand the joys of fatherhood - that is, before he meets his final fate.
A metaphor for the decline of a social class, a country and the resentment that spreads like a plague penetrating to the core of its people, "Rage" is also a tale of love and suspense that raises the tension with each successive page until it unavoidably shifts toward an intimate, shattering catastrophe. Humour, misfortune, shrewd social commentary and thrilling erotic fantasy come together, offering the reader an inside vision of contemporary Argentina.
Information
Format: Paperback
Pages: 243 pages
Publisher: Bitter Lemon Press
Publication Date: 11/06/2009
Category: Crime & mystery
ISBN: 9781904738404
Free Home Delivery
on all orders
Pick up orders
from local bookshops
Reviews
Showing 1 - 1 of 1 reviews.
Review by bikesandbooks
16/06/2015
After learning director Gillermo del Toro plans to release a film based on this novel, I thought why not? Admittedly this is perhaps not the best inspiration for launching into a novel, but soberly not the worst either. Being a big fan of del Toro (Pan's Labyrinth, Cronos, Hell Boy I/II, Devil's Backbone) I thought this might make a nifty, spine tingling read.The story line is creepy-intriguing: day laborer (Jose Maria) has a big crush on a lady friend/domestic (Rosa) in Buenos Aires. Maria gets himself in a little trouble, decides to disappear, and does so by ghosting into the top floor of the mansion/palace of Rosa's wealthy employer. The super creepy part is that not even Rosa knows he's there. Rosa becomes pregnant about this time and Maria, who is still in love with Rosa, thinks the baby might be his. The novella quality of the story wasn't my favorite, while the ghastly violation of lurking around in somebody's home is for-real disturbing in a non-ghostly way. The lurking also makes a rather pointed, if also painfully blunt, commentary on wealth disparity. Let's just say the Richy-riches have their own villainous quality and are somehow unworthy of much sympathy. Anyway they are side characters to support the setting and since the book is rather thin, there's little room to dwell on the issues.I almost stopped reading due to the novella-ish tone and what struck me as a rather clunky translation -- no evidence to support that carp, just a feeling -- but I slogged through to the end (slogging ain't so hard when the book is only 200 pages long). The last 50 pages definitely picked up. Finally nearing the end, the kick was a rather tragic, surreal, romantico feeling. In some ways the ending reminded me a little of Neil Gaiman's _Graveyard Book_. To say why might spoil the tale.