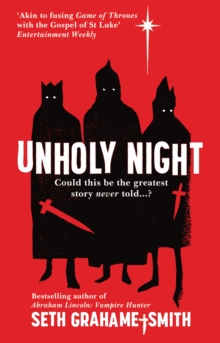 Unholy Night
Paperback / softback
Description
It's one of the most iconic vignettes in history: three men on camels, arriving at a manger, bearing gifts of gold, frankincense and myrrh.
An impossibly bright star is suspended in the vast desert sky above. It's a moment of serenity and grace. A holy night... But what do we really know about the Three Kings of the Nativity?
The Bible says little about this enigmatic trio. Not even their names are mentioned. The historical record is vague at best. How doe know that they were three kings from the East?
What if they were petty, murderous thieves - led by a mercurial individual called Balthazar - on the run, escaping through Judea under cover of night who stumble upon the famous manger, its newborn child and his earthly parents?
Here, the brilliant and slightly warped mind behind Pride and Prejudice and Zombies takes a little mystery, plays fast and loose with a bit of history to weave an epic tale.
It's an adventure that will see these thieves fight the last magical creatures of the Old Testament, cross paths with historical figures such as Pontius Pilate and John the Baptist, and deliver the family - as the Bible tells us - to the safety of Egypt.
Indeed, this may just be the greatest story never told...
Information
Format: Paperback / softback
Pages: 416 pages, B & w map
Publisher: Transworld Publishers Ltd
Publication Date: 02/08/2013
ISBN: 9780857501509