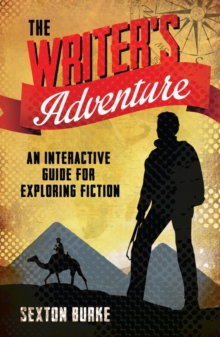 The Writer's Adventure : An Interactive Guide for Exploring Fiction
Paperback / softback
Description
Welcome, explorer, to The Writer's Adventure! Strap on your canteen and unsheathe that machete--you're about to venture into mysterious places and uncharted realms. And there's likely to be a bit of wildlife to deal with along the way. But The Writer's Adventure isn't just for professionals, no matter how dangerous it may sound.
No, this particular quest simply requires that you be willing to try new things, challenge yourself, and enjoy the trip while you're at it.
Along the way you'll develop compelling characters and plots, generate unique story ideas, hone your writing skills, and discover your unique writing voice.
You'll also be charged with exploring every nook and cranny of your creative spirit. There's no specific path to take, or course to chart.
You can work your way through the creative prompts one after another, or dip in and out, wherever you see fit.
The pages are designed to be written on, colored, torn up, sketched on--whatever helps you develop those story ideas and explore the writing craft.
If you run out of room, feel free to continue your work on a separate journal or laptop.
The Adventure starts here, but it can end anywhere. As with any adventure, the bottom line is to have fun and discover new things--and it all starts with a turn of the page. Here's what reviewers had to say about Sexton Burke's first book, The Writer's Lab: "This is a seriously amazing vault of excellent writing exercises.
I liked everything about this book: the black-and-white minimalist design of the pages, the imaginative quality of the exercises, and the many ways in which the author pushes you to practice not only the art but the more difficult aspects of it.
This one is going with me on my road trip, and I expect I'll be filling up the pages in no time.
Definitely recommended for any writer who enjoys challenges, wants to improve their craft and have fun in the process." --Lynn Viehl, New York Times bestselling author "[The Writer's Lab] has a lot of questions and exercises that get your inner writer moving which not only helps you ask the right (or write) questions but gives you a whole host of new ideas to explore as well as helping you improve the skills that you're developing.
It's a great little tool and to be honest when dressed up in the fun way that they've done with this feels more like taking a break than doing any real work.
All round a cracking title and one I'll use each time I get stuck.
Great stuff." --The Falcata Times
Information
Format: Paperback / softback
Pages: 192 pages, 10 Illustrations, black and white
Publisher: F&W Publications Inc
Publication Date: 30/01/2014
ISBN: 9781599638263