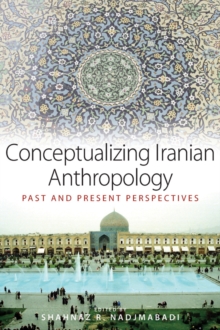 Conceptualizing Iranian Anthropology : Past and Present Perspectives
Paperback / softback
Description
In all, these useful and informative articles assess the status of anthropology of/in Iran realistically, even candidly...[They] reflect the cautiously optimistic attitude at the time of the conference, a hopefulness that meanwhile has withered...[and] illustrate the difficulties of transplanting a young social science based on humanism and curiosity (rather than pragmatism) to a society that is distrustful of intellectual pursuits deemed as potentially dangerous to an authoritarian state.
Anthropos The authors present an incisive and illuminating overview of Iranian anthropology...Despite [considerable] difficulties, the authors uniformly demonstrate a reflexive, ethically responsible, and politically aware anthropology and offer valuable insights about the greater emphasis on problem-focused research by Iranian anthropologists and the potential for a valuable future role for applied anthropology in Iran.
Choice This book...is certainly an indispensable tool for anyone interested in anthropological research on the country.
Essays are accompanied by bibliographies that often contain hidden or forgotten treasures. A comprehensive bibliography of anthropological studies of Iran in English collated by Hegland completes the book.
JRAI During recent years, attempts have been made to move beyond the Eurocentric perspective that characterized the social sciences, especially anthropology, for over 150 years.
A debate on the "anthropology of anthropology" was needed, one that would consider other forms of knowledge, modalities of writing, and political and intellectual practices.
This volume undertakes that challenge: it is the result of discussions held at the first organized encounter between Iranian, American, and European anthropologists since the Iranian Revolution of 1979.
It is considered an important first step in overcoming the dichotomy between "peripheral anthropologies" versus "central anthropologies." The contributors examine, from a critical perspective, the historical, cultural, and political field in which anthropological research emerged in Iran at the beginning of the twentieth century and in which it continues to develop today.
Shahnaz R. Nadjmabadi is a social anthropologist, who worked at UNESCO in Paris from 1977 to 1984. She is a Senior Research Fellow at the Department of Anthropology at the Eberhard Karls Universitat, Tubingen (Germany) and a member of the Competence Network Crossroads.
Information
Format: Paperback / softback
Pages: 286 pages
Publisher: Berghahn Books
Publication Date: 26/06/2012
Category: Anthropology
ISBN: 9780857456519
Free Home Delivery
on all orders
Pick up orders
from local bookshops